Global Trade Corner
Lindner Hotels AG
Lindner Hotels & Resorts. Not just better. Different.
Lindner Hotels AG
The family-run group (with 1,781 employees and revenue of €192 million in 2019) is headquartered in Dusseldorf and can draw on a particularly flexible and powerful management structure thanks to the family management. Short pathways, quick decision-making and openness to innovation are all part of the business culture at Lindner. The group offers two high-quality hotel brands under one umbrella:
Lindner Hotels & Resorts
The classic brand Lindner Hotels & Resorts represents individual business and resort hotels which are committed to comprehensive service for the guest. The special concepts of the hotel brand – in particular the themed hotels and human resource management – have won numerous awards. The Lindner Hotels & Resorts brand includes 35 hotels in seven European countries, making Lindner Hotels AG one of the leading German hotel companies. Alongside modern business hotels in large cities, high-quality spa and sports resorts are also to be found in the portfolio. Several establishments were taken over, salvaged from difficult economic situations and successfully repositioned. Franchise operations complement the offering and, like the existing establishments, provide individual holiday concepts, high quality standards and innovative spa offerings.
me and all hotels
me and all hotels are a sub-brand of Lindner Hotels AG. Developed in 2015 by the CEO Otto Lindner and the COO Andreas Krökel the first me and all hotel opened in Dusseldorf in October 2016, followed by the next locations in Mainz in 2018 and in Hannover and Kiel in 2020. In 2021, another me and all hotel was opened in Ulm. In 2022, a second me and all hotel will open at the Düsseldorf location. In 2017, the Family Office of Clemens Tönnies and the Hanseatic Group founded me & all Hotels GmbH to accelerate the growth of this new boutique brand. Further contracts have already been signed for me and all hotels in central locations in the cities of Leipzig and Stuttgart. With their urban, casual and laid-back flair, they are primarily aimed at city and business travellers as well as urban locals who want to combine living, working and communicating in a relaxing ambiance. The nonchalant heart of the hotels is the open merging of check-in, bar, lounge and co-working corners. Here, real wooden furniture, artful accessories and cutting-edge technical developments combine function and finesse, professionalism and individuality, luxury and comfort.
Towns, Cities and Culture
Lindner city hotels
Lindner city hotels offer business and city break travellers convenient overnight accommodation and conference facilities in central locations in major European cities such as Berlin, Cologne, Antwerp, Vienna and Prague. Alongside comfortable individual working areas, the hotel group also offers modern events and communications technology for your business trip. But you're also at the right place for city excursions: Discover the Rhine city of Cologne – also on Cologne's themed stages of the street artist seiLeise, stroll along the famous Königsallee in Dusseldorf or Berlin's Ku'damm and admire the Frankfurter skyline. There's lots to discover and you'll find tips and tickets in all Lindner hotels on www.lindner.de.
Lindner Hotel Am Ku'damm, Kurfürstendamm 24, 10719 Berlin
Lindner Congress Hotel, Berliner Platz, 03046 Cottbus
Lindner Congress Hotel, Lütticher Strasse 130, 40547 Düsseldorf
Lindner Hotel Airport, Unterrather Strasse 108, 40468 Düsseldorf
Lindner Congress Hotel Frankfurt, Bolongarostrasse 100, 65929 Frankfurt
Lindner Hotel & Sports Academy, Otto-Fleck-Schneise 8, 60528 Frankfurt
Lindner Hotel & Residence Main Plaza, Walther-von-Cronberg-Platz 1, 60594 Frankfurt
Lindner Hotel Am Michel, Neanderstrasse 20, 20459 Hamburg
Lindner Park-Hotel Hagenbeck, Hagenbeckstrasse 150, 22527 Hamburg
Lindner Hotel City Plaza, Magnusstrasse 20, 50672 Cologne
Lindner Hotel Dom Residence, Stolkgasse/An den Dominikanern 4a, 50668 Cologne
Lindner Hotel BayArena, Bismarckstrasse 118, 51373 Leverkusen
me and all hotels
The me and all hotels are situated right at the heart of the city and are thus a central starting point for sightseeing, culture and shopping. An essential component of this concept is a comprehensive events programme with local artists and partners, our so-called Local Heroes. They bring a major part of the spirit of the city into the hotel, from gastronomy, through music to sport, with lounge concerts, DJ sets and sporting challenges such as vertical parcours and firefighter training. All the events on www.meandallhotels.com.
me and all hotel düsseldorf, Immermannstraße 23, 40210 Düsseldorf
me and all hotel mainz, Binger Straße 23, 55131 Mainz
me and all hotel kiel, Kaistr. 80, 24114 Kiel
me and all hotel hannover, Aegidientorplatz 3, 30159 Hannover
me and all hotel oberkassel, Hansaallee 1a, 40549 Düsseldorf
me and all hotel ulm, Bahnhofsplatz 7, 89073 Ulm
Nature and Active
Whether it's hiking in the mountains of the Allgäu, long strolls along the beach on Sylt or golf on a course amid the varied natural setting of the Westerwald – the nature and sports offers of Lindner Resort Hotels have the right programme for every taste. The wellness and sports offer of Lindner resorts is characterised by variety, innovation and regionality. They offer massages, beauty therapies and wellness treatments. Various saunas, bathing pools and special wellness-themed areas such as a mountain meadow spa, a Volcanic Eifel spa and a forest and meadow spa complete the offerings of the various resorts, which include golfing, sports and family hotels.
Lindner Resort Hotels
Lindner Hotels & Ferienpark Nürburgring, Stefan-Bellof-Strasse, 53520 Nürburg
Lindner Parkhotel & Spa Oberstaufen, Argenstrasse 1, 87534 Oberstaufen/Allgäu
Lindner Hotel & Spa Binshof, Binshof 1, 67346 Speyer
Lindner Hotel & Sporting Club Wiesensee, Am Wiesensee, 56457 Westerburg/Westerwald
Lindner Strand Hotel Windrose, Strandstrasse 19, 25996 Wenningstedt/Sylt
Social Commitment / Green Travel
Sustainability has long been lived and written large at Lindner Hotels AG. This medium-sized family firm has now been certified for this with the GreenSign Label Level 4 for all the hotels in its Lindner Hotels & Resorts and me and all hotels brands. The sustainability measures include technical solutions such as communal heating generation, photo-voltaic systems, the room management system with controllable heating, electrical points and building automation, the company-wide sourcing of natural electricity, the use of LEDs, energy and water-efficient devices, and strategies to prevent food waste. In addition, at all the me and all hotels and many Lindner hotels, guests have the option of charging their electric car at the hotel and borrowing bicycles and e-bikes. The offer is rounded off with honey from the hotels' own hives or insect hotels, fresh herbs from their own herb garden and the use of recyclable coffee pods. "I am absolutely delighted by the success of these measures. Because this has meant we have been able to reduce the electricity consumption of our hotels by around 25 per cent since 2006, CO2 emissions by 79 per cent and the amount of food waste since 2017 by 12 per cent. We now aim to expand this further," comments the group's CEO, Otto Lindner.

Kontakt & Ansprechpartner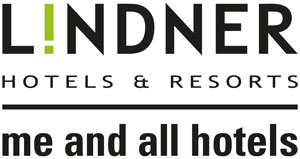 Contact
Lindner Hotels Aktiengesellschaft
Emanuel-Leutze-Straße 20
40547 Düsseldorf
Germany
Customer Service Center
Fon +49 211 44755 100
Fax +49 211 44755 110