Global Trade Corner
Wellness-Hotels & Resorts
Wellness-Hotels & Resorts
Wellness-Hotels & Resorts is an alliance of selected 4 to 5-star wellness hotels. It has led the way in the wellness hotel business in German-speaking countries for more than two decades and offers invigorating good wellness.
About us.
Wellness-Hotels & Resorts is an umbrella organisation that brings together not only top German wellness hotels but also wellness hotels from the neighbouring countries Austria and the Czech Republic. Since 1997, the cooperation of well-known and privately run hotels in the 4 to 5-star range has been one of the top providers in terms of wellness in the hotel. All of the hotels have specialized in wellness treatments at an early stage. They are thus drawing from vast experience that your well-being will benefit from. Spacious spa areas, professional wellness treatments and leisure facilities as well as the wellness healthy cuisine make your stay an adventure for the senses. EU Notified Body and international certification organization TUV regularly inspects the hotels.
You are unique.
Are you looking for individualized wellness experiences? Do you appreciate the fact that your treatments originate from the natural environment of your vacation spot? Are you interested in a wellness vacation topped with healthy offers in sports, nutrition and cultural activities amidst idyllic sceneries? Do you want to do Yoga in the Allgaeu, Thalassic therapy on the German coast, go hiking in the Black Forest, or biking in the Mecklenburg Lake District? Maybe you favor golfing or horseback riding, or a relaxing hot stone massage in the afternoon and enjoying the gourmet and vital cuisine of our hotels in the evening? No matter if your quest is the extraordinary or the common; our family-run wellness hotels and spa resorts are your experts for lasting and inspiring wellness experiences.
There is much more to explore.
We are experts in wellness and well-being. That is why our hotels additionally offer special treatments for spirit and soul. Would you like to immerse yourself in the topics of classical music, literature, typical myths of the Alps, Asian art of living, or coaching for couples? You are the one to create your visit at our hotel. Come and stay with your family, friends or the love of your life. Our wellness hotels and spa resorts are located in the most attractive German vacation spots: From the North and the Baltic Seas to the Sauerland, from the Allgaeu and the Black Forest to Bavaria. Additionally, you will find our resorts in Austria and the Czech Republic.
Nature and Active
Health, Active and Nature
Active Lifestyle and Nature.
Wellness holidays – this means finding peace, regaining your inner balance and rediscovering yourself with all your senses. However, wellness holidays and short breaks also mean lacing your hiking boots and familiarising yourself with the mountains in their natural stillness, cycling through the bizarre landscape of dunes along the North Sea or simply playing golf. After all this exercising a refreshing swim in the spa or a relaxing massage makes up for all efforts. But the regions of our spa resorts also offer a never guessed at bounty of natural treasures: A mud bath in the Bavarian Alps, the healing powers of pure sea water in the original Thalasso center at the Baltic sea, or a Felke clay pack at the Nahe. And of course, part of every holistic wellness experience is also consciously enjoying and tasting high quality regional culinary dishes.
Wellness holidays, spa vacation or wellness travel – even if the names are slightly different, each centres around the human being as a whole and on individual needs. It doesn't matter whether you spend your holidays on your own, with family, with friends or with a partner: Our spa resort hotels are specialised in holistic wellness experiences that continue to benefit you even when your stay has ended.
Vacations for your Health.
Being healthy is of crucial importance for nearly everybody. Selected partner hotels of Wellness-Hotels & Resorts thus offer high-level health programs ranging from back trainings, burnout to dehabituation programs. Private persons may choose between eligible prevention vacations or individual health vacations. Companies are being offered corporate health programs.
Your well-being is our concern
That is why we rely on tried and tested quality. As early as 1997, our association defined obligatory criteria that every accredited hotel has to satisfy, to obtain our much-sought brand, the "Wellness Tree". Standard requirements are quiet locations close to nature, at least four star range, excellent spa area, qualified staff, acknowledged environmental measures, vitality cuisine and others. Our criteria have influenced the whole German wellness hotel business. EU Notified Body and international certification organization TÜV regularly inspects our hotels and verifies all criteria.
Our brand – the "Wellness Tree"
Accredited hotels guarantee:
4 to 5 star range (the highest quality marks the DEHOGA can award)
Refined and spa-oriented hospitality
Quiet location close to nature
Acknowledged environmental measures
Spaciously designed, attractive pool and sauna areas, exercise areas, relaxation area with comfortable amenities for resting, zone for body-care with facilities for beauty treatments, massages etc.
Highly-qualified, friendly staff
Vitality cuisine
Cultural offerings and event programs
Non-smoking zones, quota of non-smoking rooms, smoking is generally banned in German restaurants, special zones for smokers optional
Commitment to ensure quality measurement
Social Commitment / Green Travel
Wellness Teddy Bear
With the sales of our wellness teddy bears we are happy to have been able to support various social projects for children.
Kontakt & Ansprechpartner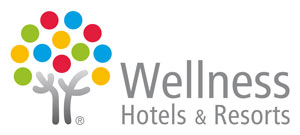 Contact
Wellness-Hotels & Resorts
Haroldstrasse 14
40213 Düsseldorf
Germany
Phone +49 211 679 69 79
Fax +49 211 679 69 68
Contact:
Michael Altewischer
Managing Director