Global Trade Corner
BWH Hotels Central Europe GmbH
BWH Hotels
BWH Hotels is a leading, global hospitality network comprised of three hotel companies, including WorldHotels®, Best Western® Hotels & Resorts and SureStay Hotels®.
As a quality-oriented, international hotel network, the BWH Hotels unites entrepreneurially independent and privately managed hotels under one roof. With over 4,500 hotels in more than 100 countries, it is one of the largest hotel organisations in the world. The focus is on a particularly high level of comfort, personal service and individual character.
From a bed and breakfast hotel in the heart of the city to family hotels in the countryside to resort hotels with extensive sports and wellness facilities. The BWH Hotel Group offers the right hotel for every target group and every travel occasion. All of the organisation's conference, city and holiday hotels guarantee uniform quality standards while retaining their individual style and entrepreneurial independence.
WorldHotels™ is a curated offering of the best independent hotels and resorts worldwide. Each hotel under the brand is as exquisite as the place in which it is located - for unforgettable experiences from the moment you enter the hotel for the first time.
The Best Western® Hotels & Resorts family of brands unites private hoteliers in more than 100 countries who are passionate about hosting and pampering their guests from the moment they enter until the moment they leave. Each of the 10 hotel brands of Best Western Hotels & Resorts has its own style, but all share the same commitment to warm service and cosy comfort with a regional touch.
SureStay® Hotels offers unforgettable experiences at affordable prices. Consisting of four distinct brands, the hotel group offers leisure and business travellers a comfortable home away from home.
Benefit worldwide with Best Western Rewards & WorldHotels Rewards
The worldwide bonus programmes offer exclusive advantages in more than 4,500 hotels worldwide from which guests can benefit! And the best thing is: from the very first night, guests can save up to 10% on their stay at participating hotels.
Kontakt & Ansprechpartner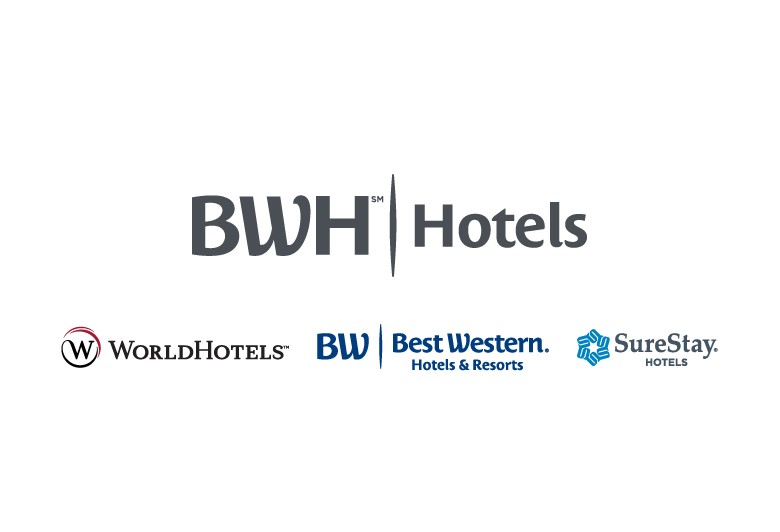 Contact
BWH Hotel Group Central Europe GmbH
Frankfurter Strasse 10 – 14
65760 Eschborn
Germany
Phone +49 6196 4724-0
Fax +49 6196 4724-200