Global Trade Corner
ERGO Reiseversicherung AG
ERGO Reiseversicherung: specialising in keeping travellers safe
ERGO Reiseversicherung AG is the ERGO Insurance Group's travel-protection specialist, and therefore belongs to Munich Re, one of the world's leading reinsurers and risk carriers.
Market leadership – more peace of mind when travelling
ERGO Reiseversicherung has been writing travel insurance history for over 110 years. Today ERGO Reiseversicherung is the German market leader in this segment and as one of the leading providers of travel insurance is now represented in over 20 countries world-wide. With its international network, ERGO Reiseversicherung guarantees its customers optimum support before, during and after their trip. Besides its competence as a travel insurer, ERGO Reiseversicherung sees itself as an innovative service provider.
Vacation in Germany - properly insured between the North Sea and the Alps. We offer some special products for travel inside Germany, in which trips of up to 48 hours into bordering countries are also insured.
Insure foreign guests adequately. You can insure foreign guests who are visiting Germany with our Incoming-insurance. With ERGO Reiseversicherung travel insurance, every guest is not only warmly welcomed, but also feels safe during his trip.
More information about ERGO Reiseversicherung: www.ergo-reiseversicherung.de
Kontakt & Ansprechpartner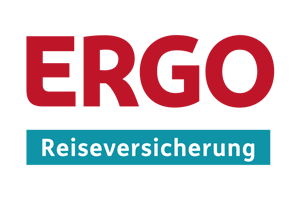 Contact
ERGO Reiseversicherung AG
Thomas Dehler-Str. 2
81737 München
Phone.: 089 4166–1717