Inspiring Germany
A round-the-world trip without leaving Germany
If you want to marvel at Icelandic-style geysers, gondolas straight from Venice and many other wonders, all you need to do is come to Germany. Many of the attractions around the world have a twin – let's embark on a German voyage of discovery brimming with exotic surprises.
Lilac temptation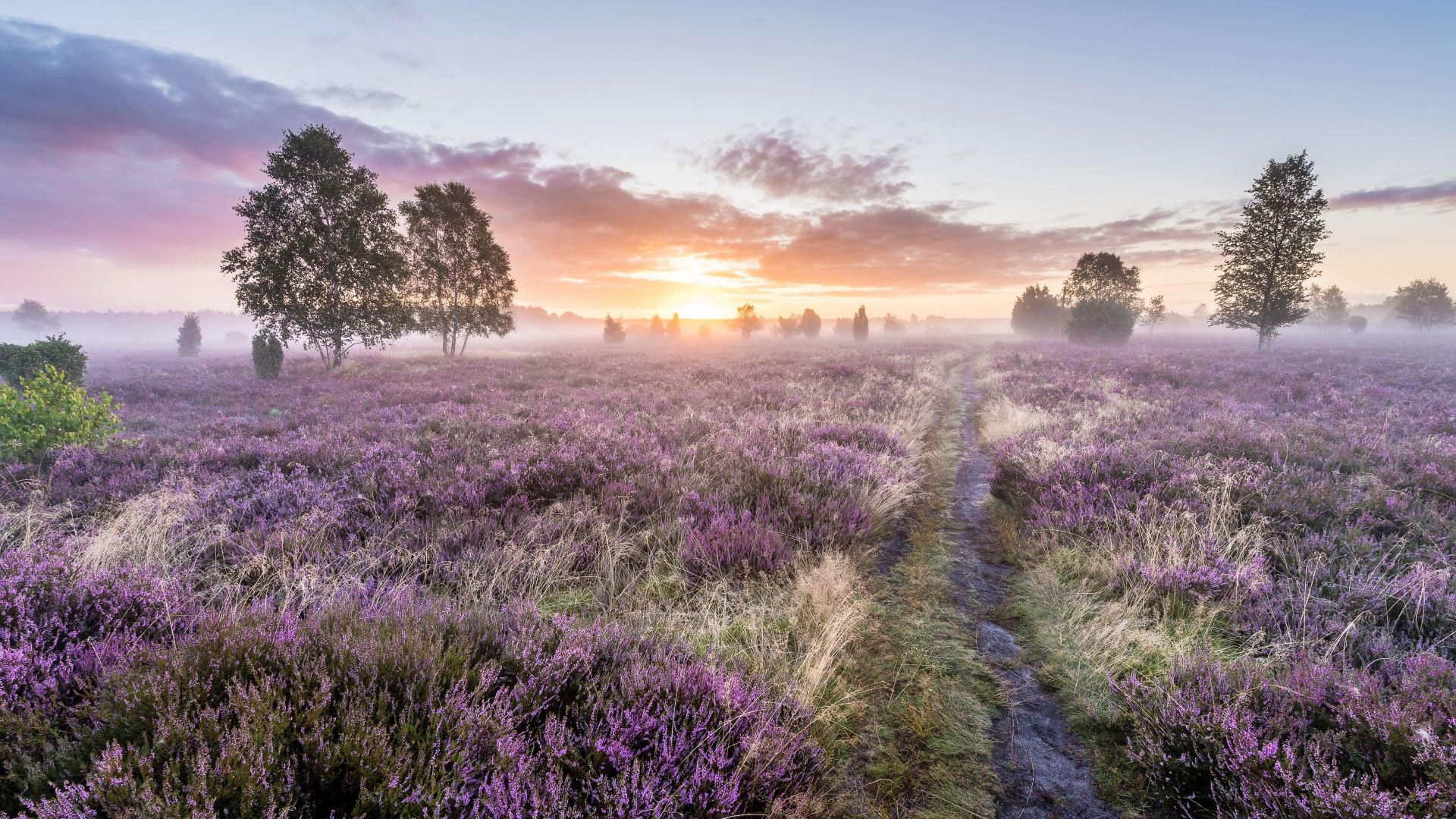 Lüneburg Heath (Lower Saxony)
Your gaze wanders across a carpet of lilac blossoms visible as far as the horizon. It smells divine and your heart jumps for joy. Who doesn't dream of relaxing days in Provence, France, when the lavender is in bloom? This beautiful natural wonder can also be witnessed much further north. Lüneburg Heath around the Wilseder Berg hill and the village of Undeloh always transforms into a sea of purple blossoms when the buds of the bushes on the heath open up in late summer. You can also enjoy this lilac temptation on a horse-drawn carriage ride – an extra not on offer in France.
Blue wonder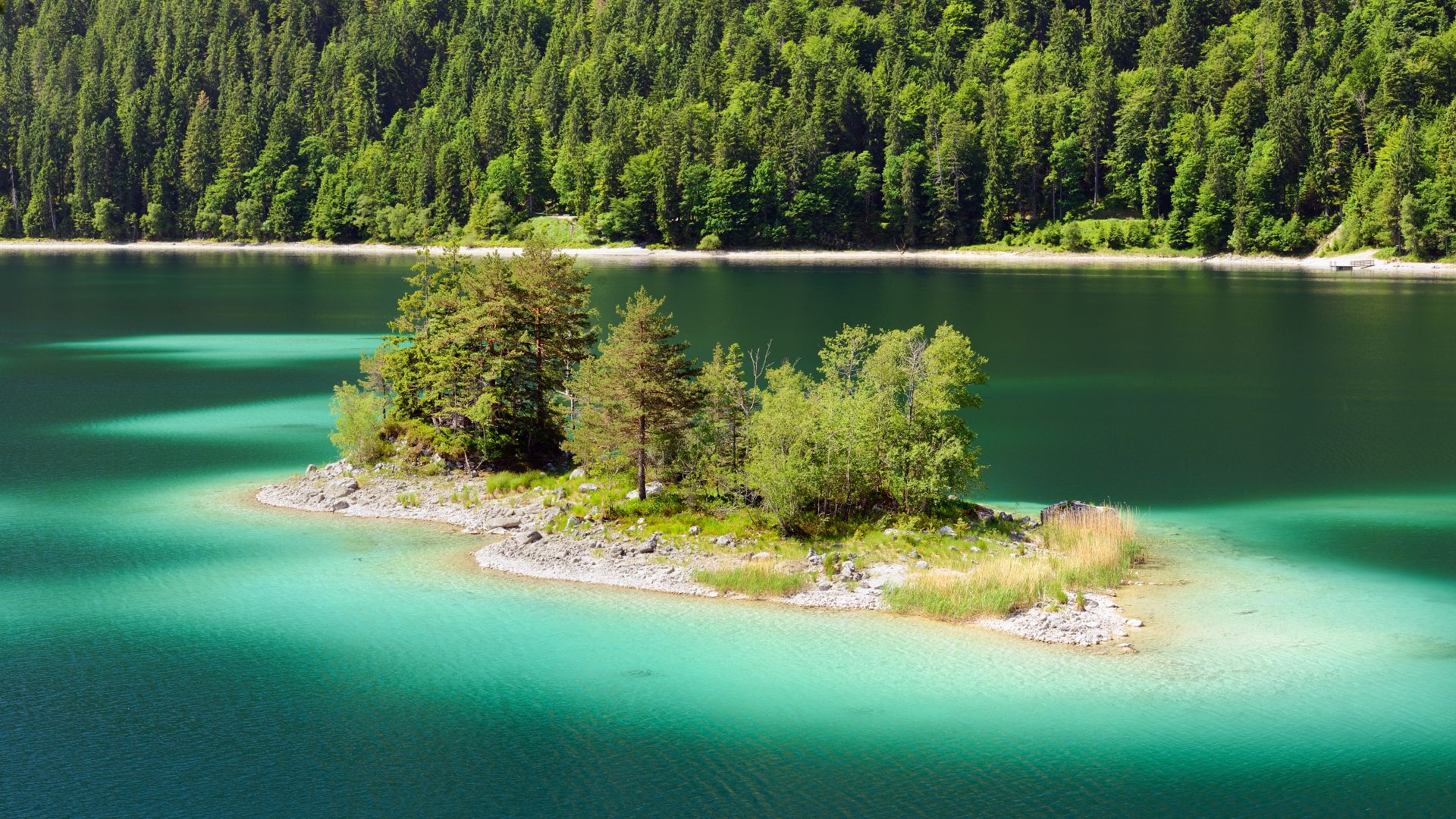 Lake Eibsee near Garmisch-Partenkirchen (Bavaria)
Everybody has seen photos of Lake Louise in Alberta, Canada. This world-famous lake, perched between towering snow-capped mountains, shimmers like a massive emerald in the most beautiful turquoise blue. Germany can also boast of a similarly enchanting lake. Lake Eibsee, over in the Bavarian Alps, is a similarly luminous colour and is set against the backdrop of the mighty Wetterstein mountains. If you like whipping out your camera for amazing shots, you will find no shortage of enchanting images to capture here. And a dip in the refreshingly cold water of this small but mighty lake is a glorious indulgence. There are also plenty of fun activities to do in, on and around the water: stand-up paddleboarding, pedalos, walks with a view or a ride on the Eibsee cable car up to the top of the Zugspitze mountain.
A romantic gondola ride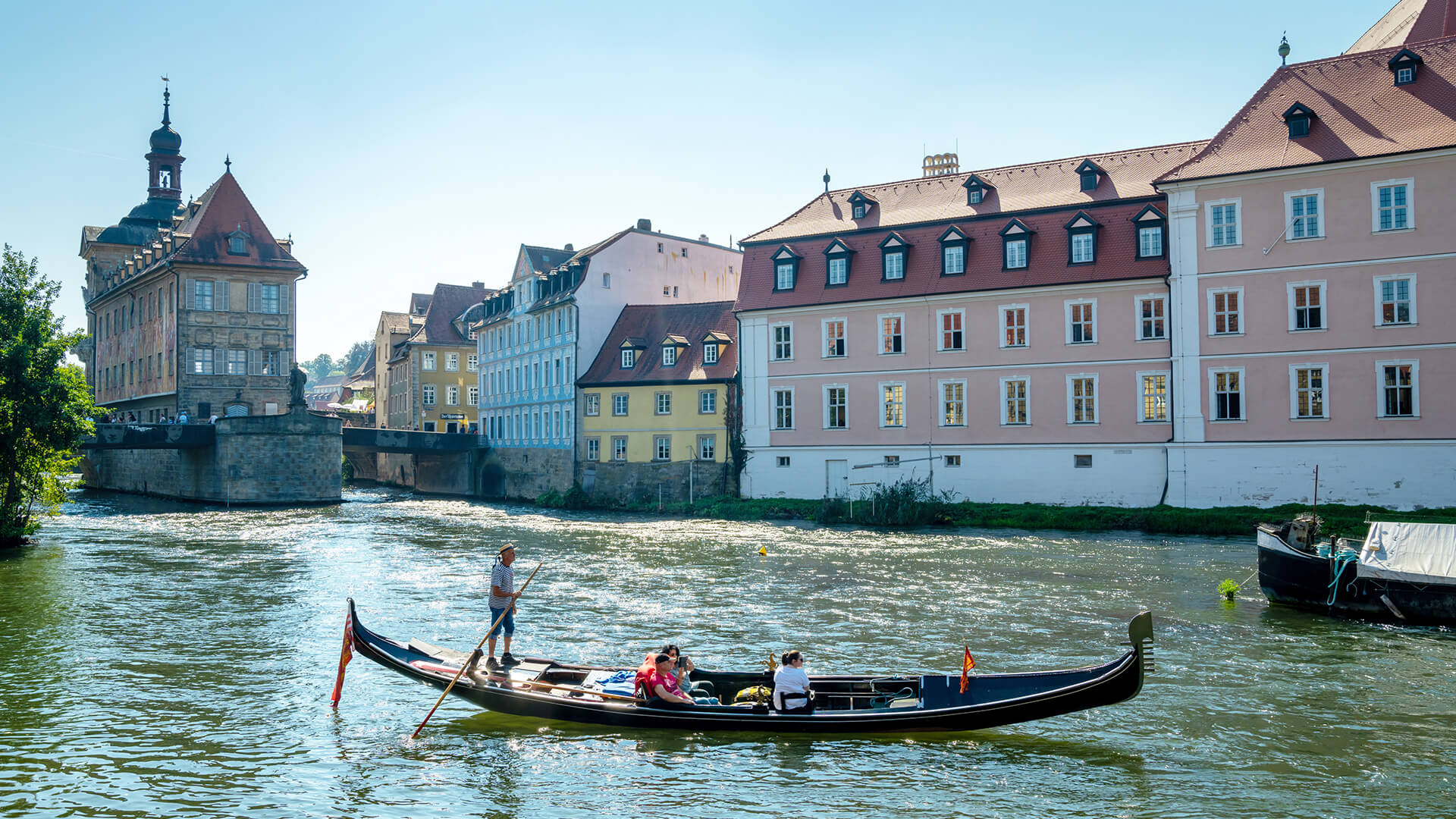 Bamberg (Bavaria)
Whether you're single or head over heels in love, Venice with its lagoon, enchanting canals, stone bridges and mighty patrician houses is the number one destination for romantics. Bamberg, affectionately known as "Little Venice", attracts visitors with similar pleasures. Gondoliers wearing traditional striped shirts and straw hats row in genuine Venetian gondolas here, along the Regnitz river and past picturesque half-timbered fishermen's houses. They also sail past the Old Town Hall. Built in the middle of the river and accessed via stone bridges, it is a spectacular sight to behold. The advantage of a gondola ride in Bamberg is you may be the only ones on the water here.
Baroque splendour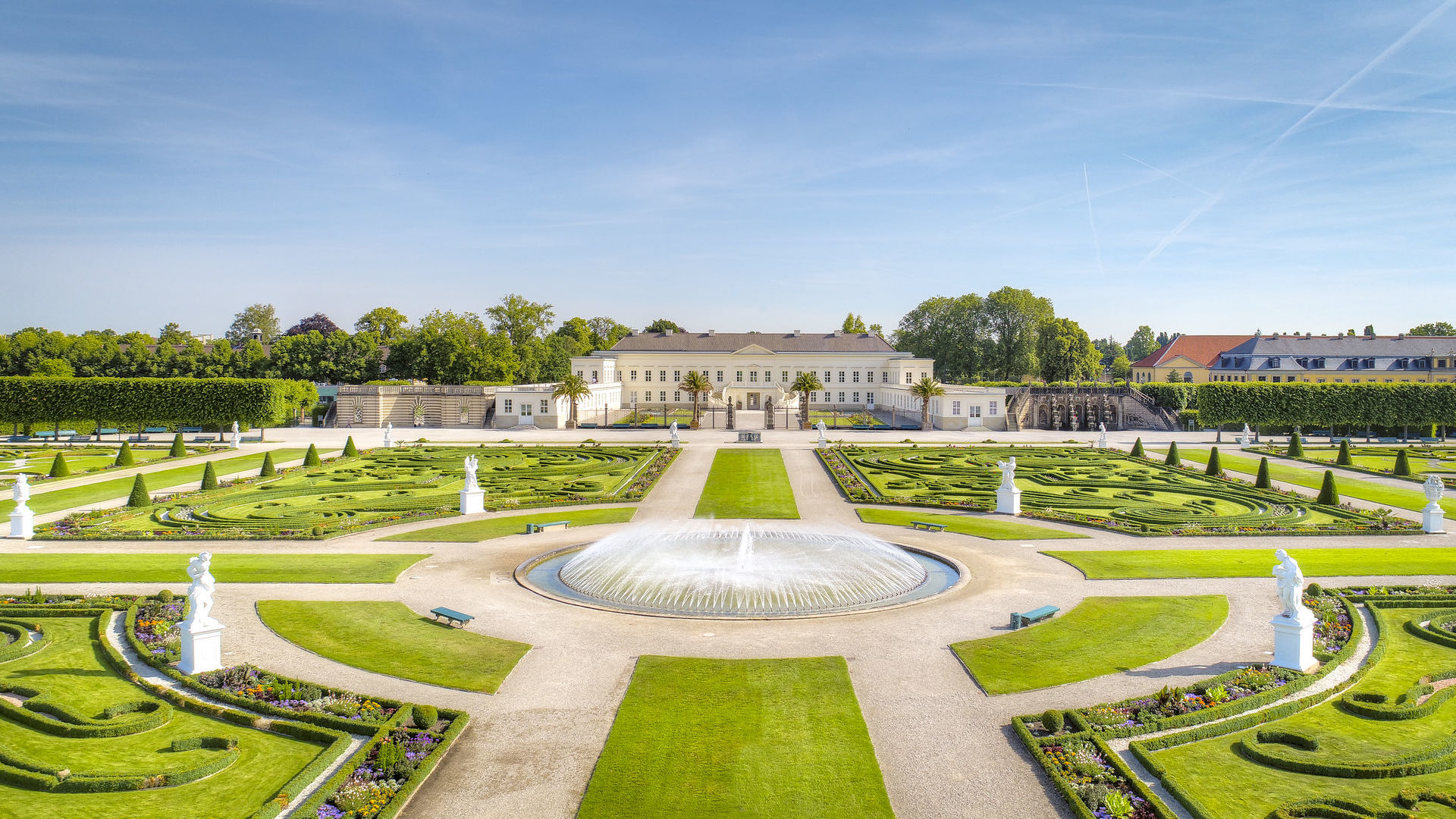 Herrenhausen Gardens, Hanover (Lower Saxony)
When people think of picture-perfect gardens, many instantly think of the Baroque gardens in Versailles with their water features, fountains and sculptures. But another Baroque gem will come to mind for those in the know: Herrenhausen Gardens in Hanover. Electress Sophia commissioned the gardens to be designed in the finest Baroque style in around 1700. She ensured the garden was adorned with bubbling and impressive fountains and shimmering marble statues. New life was breathed into the historical grotto not so long ago, when artist Niki de Saint Phalle transformed it into a colourful haven.
Water from the underworld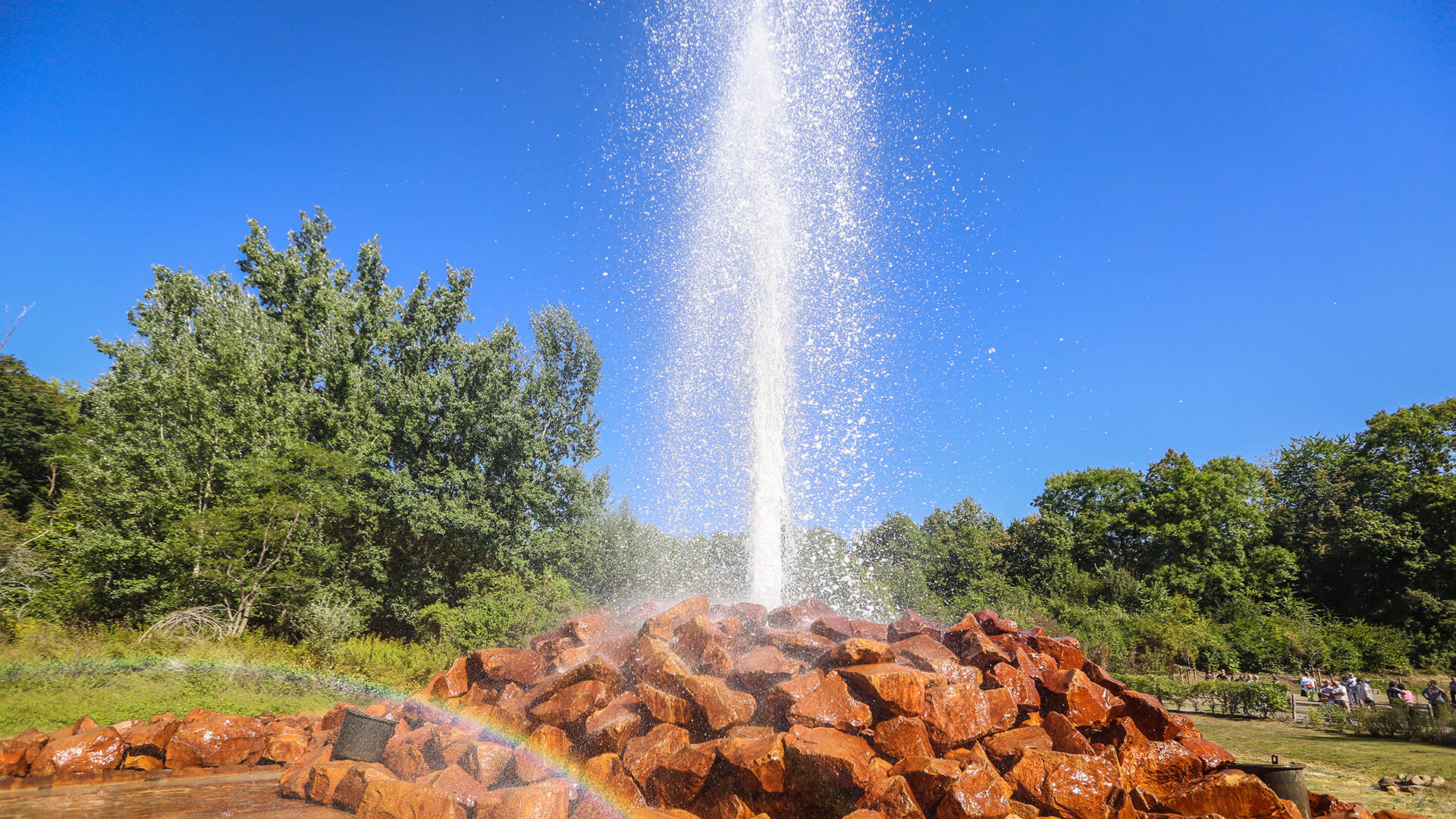 Andernach Geyser, Andernach (Rhineland-Palatinate)
Smartphone cameras at the ready, all eyes on a point on the ground where nothing is currently happening. Then suddenly a massive fountain spits and splutters out of the underground and shoots up into the sky. Well, yes, of course. We're in Iceland, the home of hot springs, and we're marvelling at the Great Geyser as it fizzes into the air. Or are we? Maybe we're hanging around in the Vulkaneifel district, waiting for the Andernach Geyser to erupt. It does so every two hours, driving a powerful, cool jet of water an impressive 60 metres above the crowds. This amazing feat has earned it a Guinness World Record as the world's highest cold-water geyser. But how come a cold-water geyser erupts in the first place? In short, it's the same principle as a bottle of sparkling water being vigorously shaken and then opened. If you want to see it, you'll need to travel to the region of Germany where volcanoes are still active.
Jungle adventure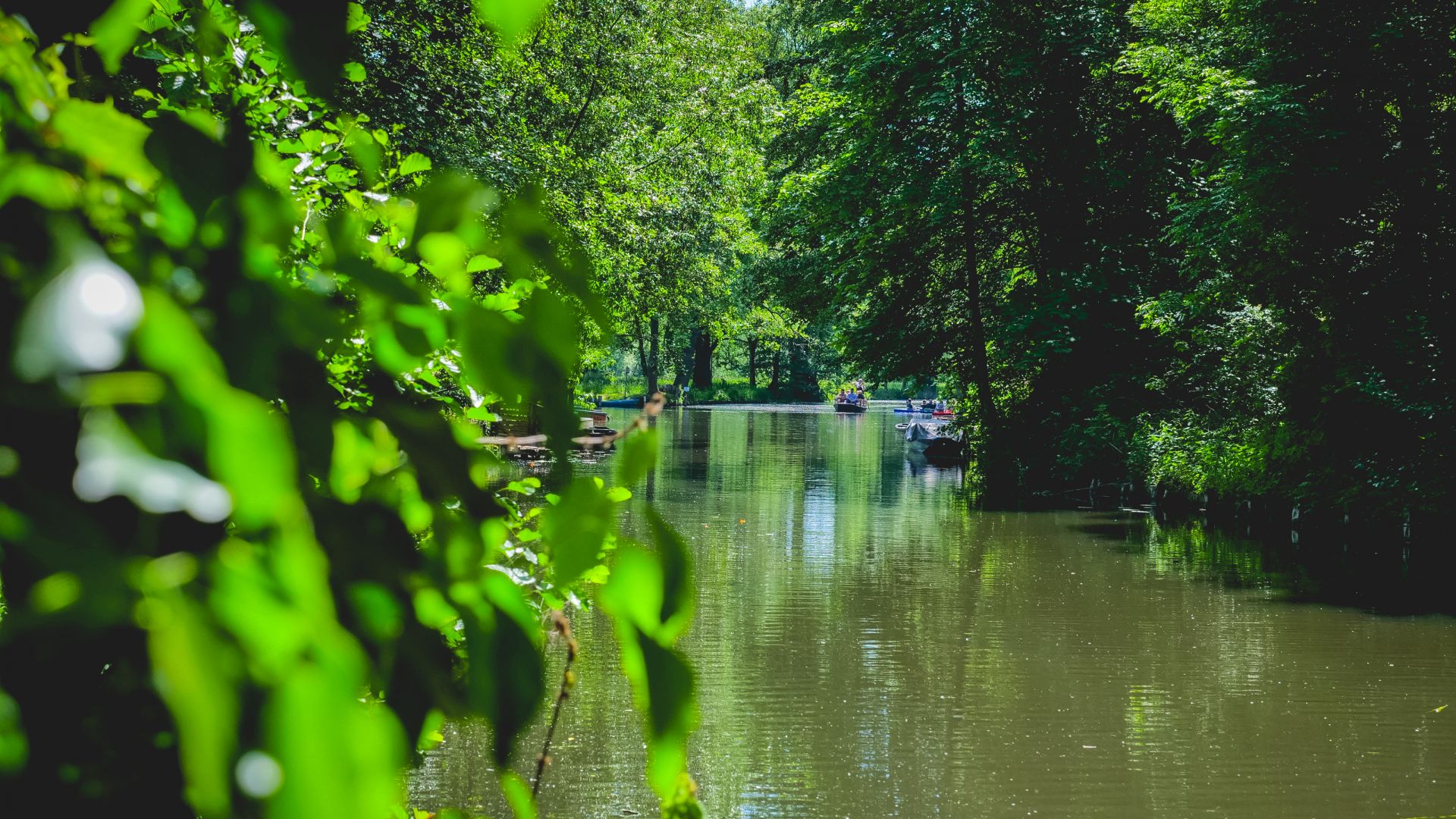 Spreewald Forest (Brandenburg)
The canoe glides leisurely along the narrow waterway, through a tangle of tree roots, branches and vines. The only sounds you can hear are the noises of the paddle, the croaking of the frogs and the buzzing of the cicadas. Solitude and silence – we must be somewhere in the jungle, on a tributary of the Amazon. Just without the mosquitos. What a blessing! And it is in that moment we realise: we're here in Brandenburg's Spreewald Forest, a good hour's drive from Berlin, paddling through an enchanted forest. Whether you want a multi-day tour or a quick lap for beginners, the network of waterways that date back to the Ice Age forms an idyllic backdrop in the romantic Spreewald Forest, with small garden restaurants, picturesque wooden bridges and locks that are still operated manually today. Jungle adventures don't get cosier than this.
Like living among Hobbits
Elbe Sandstone Mountains (Saxony)
A sea of sheer, towering pinnacles, jagged stone monoliths and mini table mountains with monasteries seemingly glued on top: this spectacular landscape can be found in Thessaly, Greece and is classed as a UNESCO World Heritage Site. Similar backdrops that would not look out of place in the epic Lord of the Rings tales can be found on both sides of the Elbe river in Saxon Switzerland, where the forces of nature have sculpted a relief out of the sandstone resembling a massive sculpture park. One of the most famous landmarks here is the Bastei, a steep rock formation that plummets almost 200 metres into the depths and reveals spectacular views of the Elbe Valley from its observation point. The Bastei has its own special allure that attracts visitors all year round. But it looks particularly magical in the autumn mist, when you could very easily imagine a band of Hobbits scurrying over the archaic Bastei Bridge on their way to Neurathen Castle.