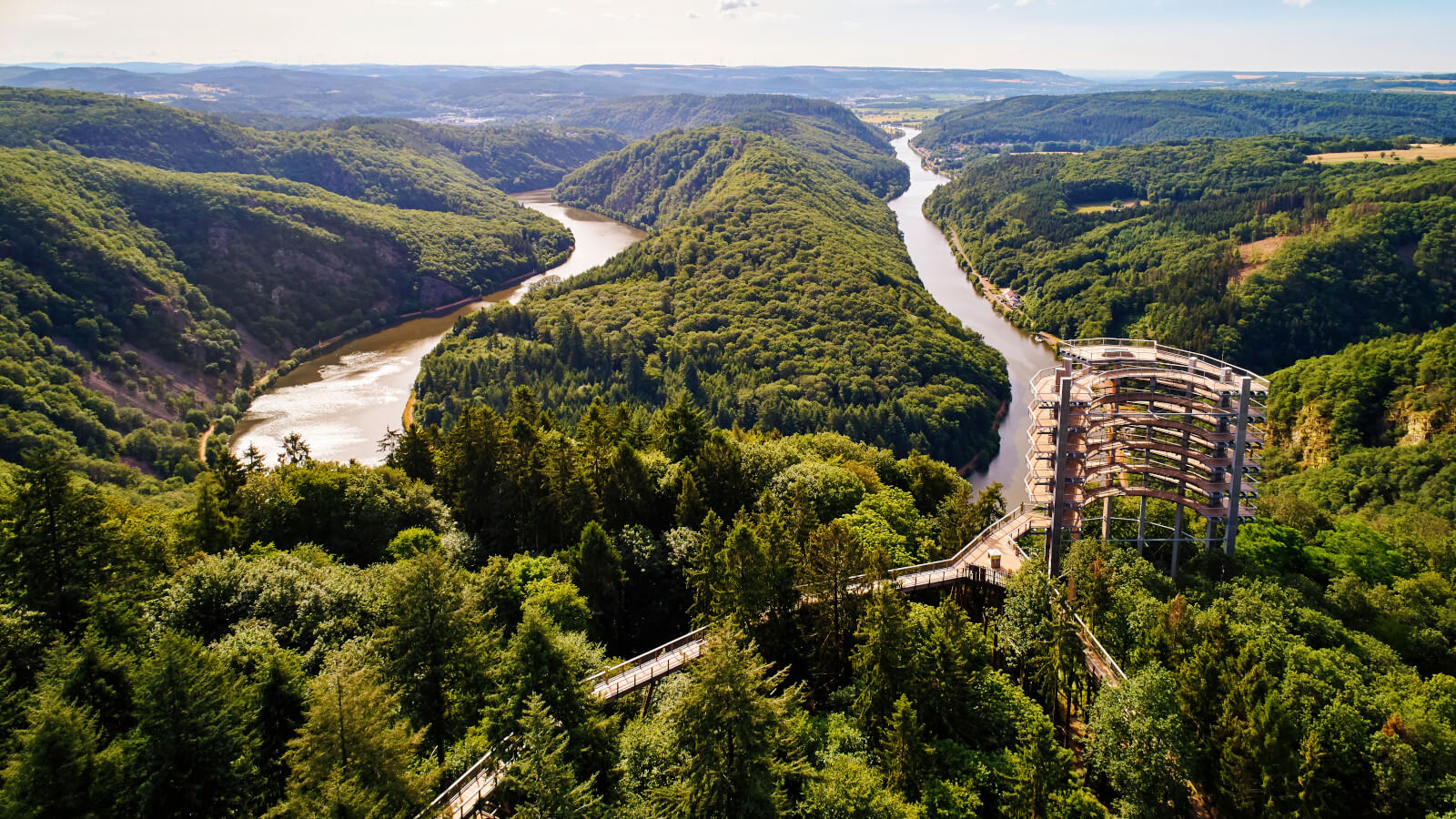 Inspiring Germany
Saarland – a small green region oozing charm
Cycling tours in the Saarland are all about variety and unforgettable experiences, with family-friendly routes along river valleys, cross-border trips into France and Luxembourg and challenging climbs in the Hunsrück hills that are guaranteed to make cyclists get a sweat on. The Saar Cycle Route is not to be missed as the first cross-border, long-distance stretch to be awarded four stars by the German Cyclists' Federation (ADFC). This is premium Saarland quality at its very best.
Activity and adventure in the Saarland
With unspoiled countryside and high-quality hiking routes, the Saarland boasts a dense network of premium trails for the ultimate hiking experience. In recent years, four of the Saarland's premium trails have won the title of "Germany's Most Scenic Walk". And the 218-kilometre Saar-Hunsrück-Steig was voted the most beautiful long-distance trail in 2017. There's no better way to explore the Saarland than on these award-winning walks!
Golfers are spoilt for choice in the Saarland and across the border. The golf courses, set against stunning scenery and tended to with perfection, leave nothing to be desired.
Top culture tip!
In the Saarland, 2,000 years of history can fly by in a day, with breakfast in a Roman villa, a Medieval feast at lunchtime and afternoon tea in a Baroque palace followed by an evening of jazz against a backdrop of blast furnaces at the Völklinger Hütte UNESCO World Heritage Site. There is also a wide range of cultural events, where up-and-coming stars give it their all and global celebrities make the audience go wild. Exceptional museums and a vibrant art scene never stop showing off the wealth of culture the Saarland has to offer.
Saarland's foodie dreams
Fine dining is a big deal in the Saarland. Whether it's a traditional home-cooked meal of grilled pork and delicious potatoes, exquisite dishes prepared by chefs with three Michelin stars or innovative creations, cooks here tend to rely on local produce of premium quality. Chefs in the Saarland are clearly inspired to achieve great things, as this is the German region with the most Michelin stars per capita.
© Tourismus Zentrale Saarland GmbH