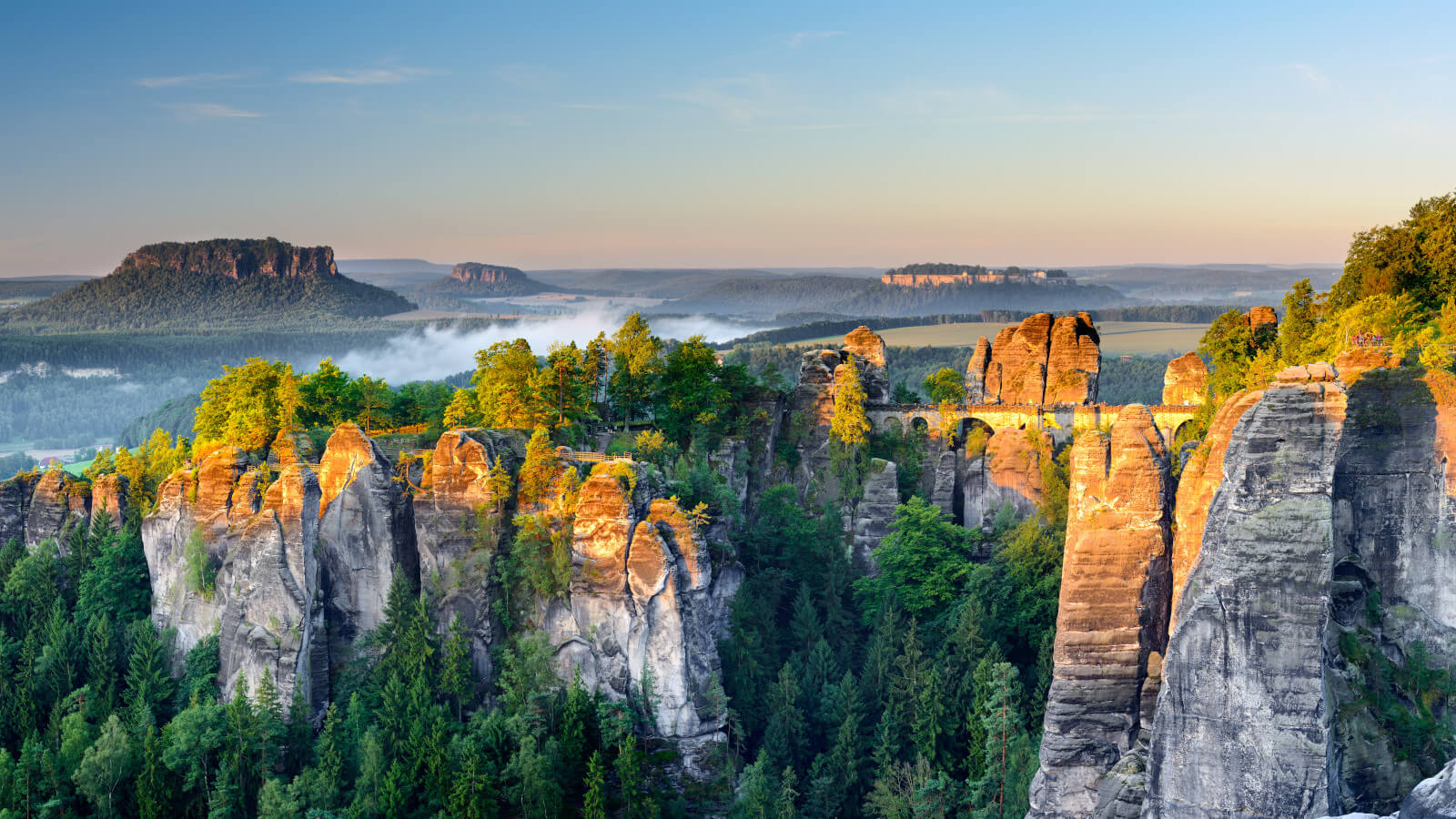 Inspiring Germany
Saxony – world-class culture, art and nature
A holiday in Saxony is a journey of discovery through a cultural landscape dating back 1,000 years. Cultural breaks in the area allow visitors to follow in the footsteps of prestigious composers, architects and artists. The top holiday destinations are ideal for combining city breaks with activity holidays or family holidays with wellness breaks. And that applies all year round.
Saxony has a rich history given that its cultural landscape is more than 1,000 years old. The holiday regions, towns and cities in Saxony are home to over 500 museums. Attractions such as the Semper Opera House, the Church of Our Lady and Zwinger Palace in Dresden, the Monument to the Battle of the Nations in Leipzig and Moritzburg Castle are all important landmarks of the Free State of Saxony.
Above all, it is the exceptional examples of art and culture that draw in visitors from all around the world. Music festivals, theatre performances and art collections of international standing are all important aspects of the culture scene in Saxony. Saxony's musical heritage is associated with venues like the Semper Opera House in Dresden, the Gewandhaus concert hall in Leipzig and the theatre in Chemnitz as well as the names of famous composers including the likes of Johann Sebastian Bach, Richard Wagner, Robert Schumann and Carl Maria von Weber. The St. Thomas Choir of Leipzig, the Dresden Kreuzchor boys' choir, the Leipzig Gewandhaus Orchestra and the Dresden Staatskapelle state choir are some of the world's most famous ensembles.
Some of Saxony's most-visited towns and cities boast market squares that are up to 1,000 years old and they never fail to impress with their historical architecture and flourishing culture scene. But Saxony also owes its global reputation to its rich craftwork traditions, including wood carving in the Ore mountains, the creation of musical instruments by hand in the Vogtland region, Meissen porcelain, Plauen lace and Glashütte watches.
Saxony is an ideal destination for family holidays, with many of the hotels, guesthouses, holiday homes and leisure facilities having adapted to the requirements of families with children to guarantee stress-free breaks that are fun for all the family.
Cyclists, hikers, climbers, mountain bikers, motorcycle riders and fans of winter sports are sure to be in their element in the Saxony highlands. After all, it wouldn't be a fun holiday without the chance to indulge in favourite hobbies. Plus, Saxony's health resorts and spas steeped in tradition offer plenty of opportunities for spa treatments and a focus on health and wellness.
© Tourismus Marketing Gesellschaft Sachsen mbH