Experience & Enjoy
This is the taste of Germany!
When someone asks you about German cuisine, where does your mind immediately go? Sauerkraut, bratwurst and beer? Black Forest gateau? Well, that's just the start...
When you consider a country's typical cuisine, it's important to make a distinction: what is sizzling away in private kitchens, and what is offered in restaurants up and down the country? While we're on topic of food, another important factor is this: are we talking about the traditional cuisine of a country, or about the contemporary delicacies on people's plates?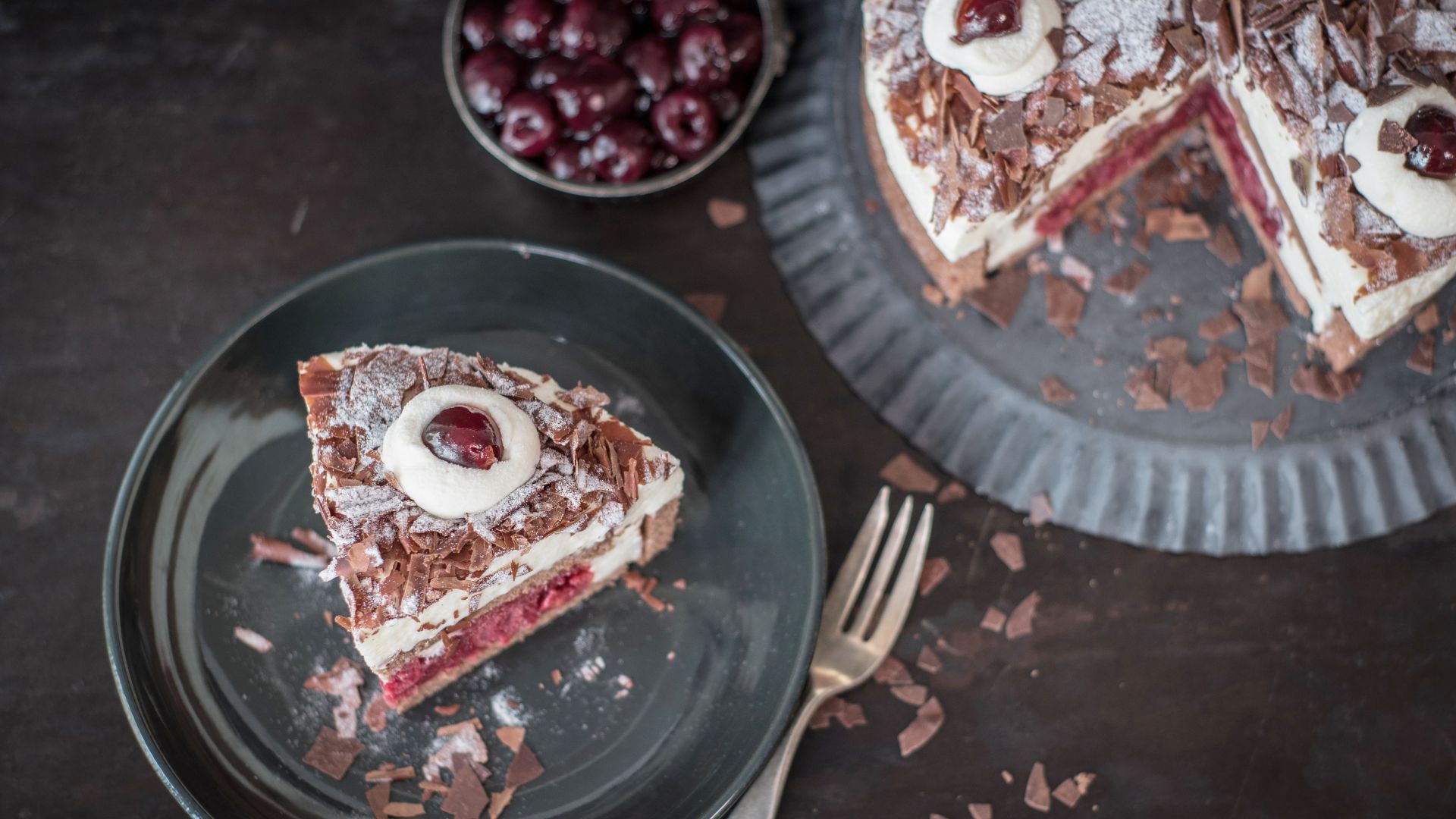 Looking back
In the past, a region's cuisine was – and to some extent still is – characterised by the typical produce from its local agriculture. People didn't yet have the border-free transportation of goods that nowadays enables us to have almost any ingredient at our disposal at almost any time. Sometimes the typical cuisine of a region was heavily influenced by its neighbouring country – such as Austria, France or Poland. And so breakfast, lunch and dinnertime menus were dominated by the products that were available in the immediate area. Potatoes, root vegetables, meat, fish and, of course: bread. A lot of restaurateurs are drawing on this theme again and using regional and seasonal products in their cuisine. In this way, they avoid the long transport routes and also support their local producers. Many German restaurants now cook sustainably, and so the concept of "nose to tail" – i.e. using the whole animal and not just the prime cuts – is also incorporated in many places.
"Brotzeit" is the best Zeit!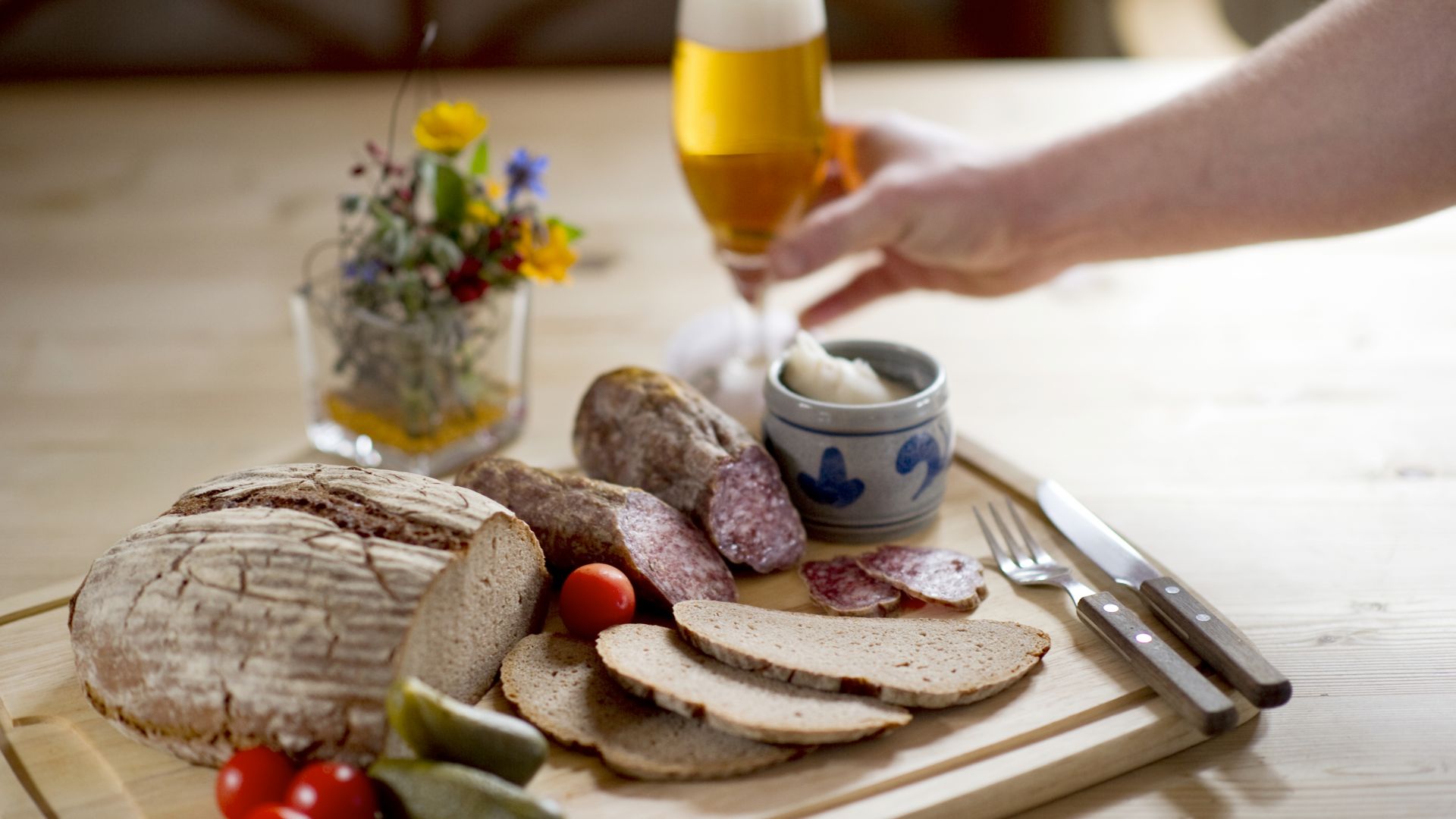 It would certainly be fair to say "Brotzeit" or "Abendbrot" (literally: bread time, evening bread) was a typical German tradition and exists all over Germany. The choice and variety of bread in Germany is huge. It is usually enjoyed with cold cuts and ham or cheese specialities, as well as pickled cucumbers or fresh radishes, other types of radish or other fresh vegetables. Depending on the time of year, Brotzeit can take place on the balcony or terrace – in Bavaria, it's also very popular in beer gardens, where you are allowed to bring your own food and then get a drink (i.e. beer) to go with it.
Fusion, cross-over, international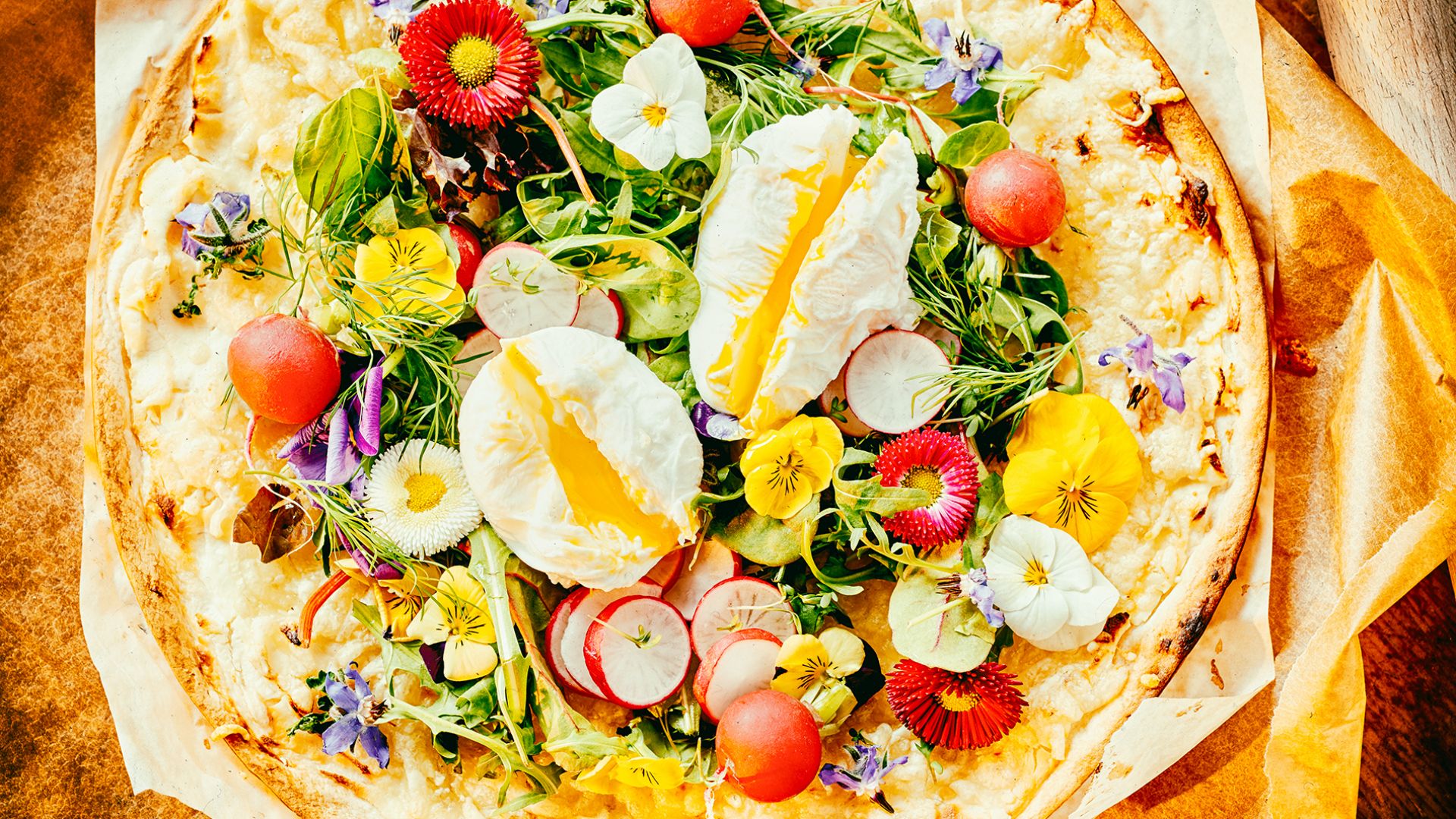 Today, cooking has international influences both in the privacy of people's own homes and in restaurants. Most good chefs are well-travelled or have at least peeked into foreign kitchens here and there during their training. They bring their own creativity to German cuisine. People from other cultures living in Germany also bring ideas to the table, and their dishes also inspire. And so, over time, "typical German cuisine" has developed into a delicious fusion. Italian cuisine is very prevalent and popular, and this also has to do with the history of the country. The Mediterranean kitchen style is also very popular in people's own kitchens.
What do the northerners like to eat best?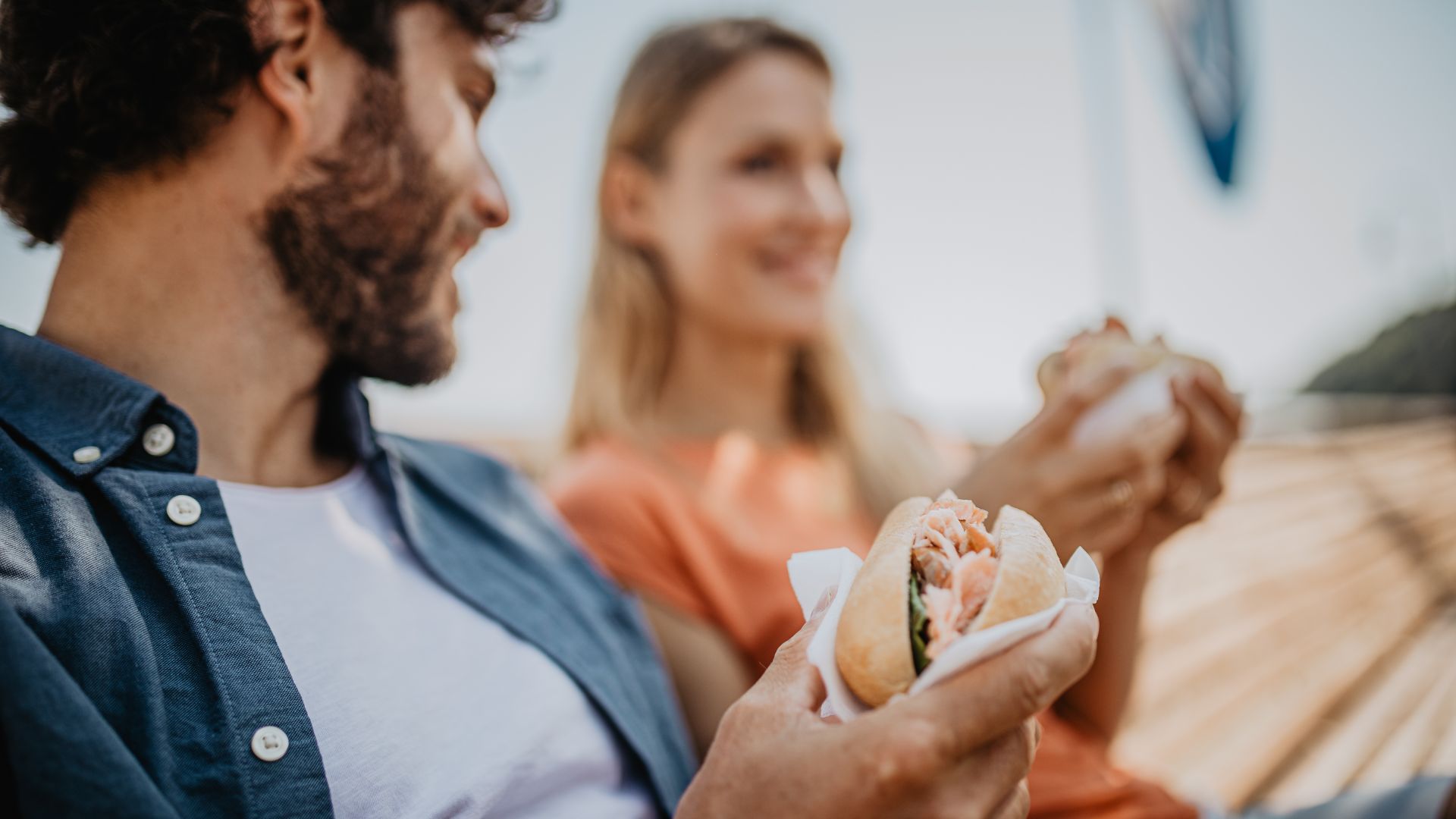 In the northern states of Bremen, Hamburg, Schleswig-Holstein, Mecklenburg-Western Pomerania and in large parts of Lower Saxony, fish and seafood have long since been a staple on the menu and still are today. Something to do with the location, we reckon. In Hamburg and Mecklenburg-Western Pomerania, more fish is eaten than anywhere else in Germany. So it's only natural that many typical North German recipes involve fish and seafood.
How do the people in the heart of Germany dine?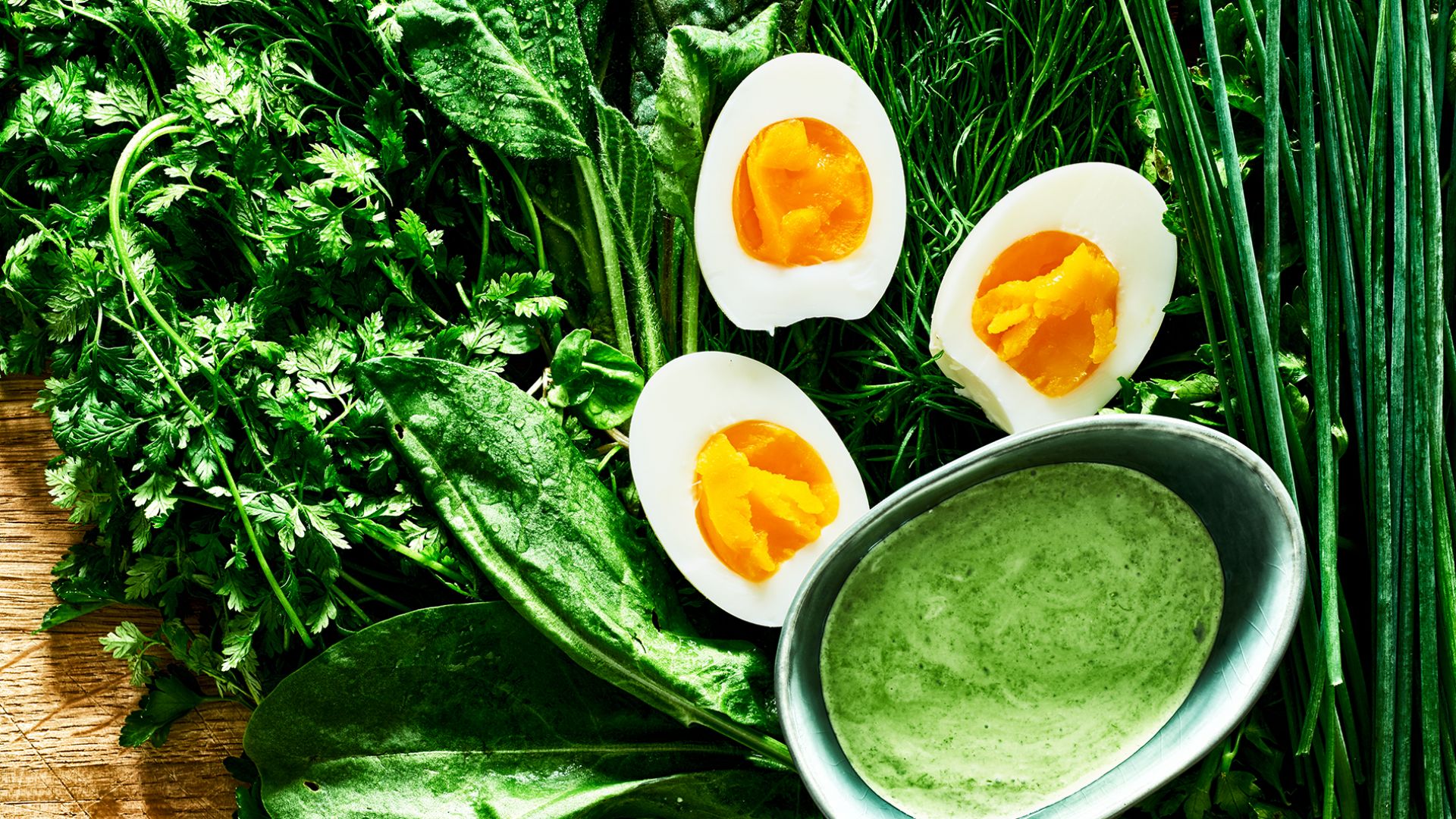 In the western centre of Germany, Rhenish, Palatine, Hessian and Saarland cuisine is particularly popular. Many typical dishes can be found here, such as "Himmel un Ääd" (mashed potatoes and apple sauce, available with fried sausages or warm slices of black pudding), mussels Rhenish style, Rhenish sauerbraten roast or "Halve Hahn" (a rye roll with cheese and herbs). Seeing on the menu, "Frankfurt Green Sauce" or "Handkäs with Music" will certainly make the hearts of those who love this Hessian city on the River Main beat faster. Add an "Äppelwoi" in the traditional ribbed glass, and the good life is back on track. In the Palatinate, people traditionally enjoy very rich food, with the "Pfälzer Dreifaltigkeit" (literally: Palatinate Trinity): liver dumplings, bratwurst and a slice of Saumagen on sauerkraut with gravy. Thanks to former Chancellor Helmut Kohl, these dishes have spread far beyond Germany's borders. He regularly invited his politician colleagues to enjoy these specialities. In the East, specifically in Saxony, people have a sweet tooth: be sure to try the "Dresdner Eierschecke", a fluffy and delicious staple of German baking. Or the "Leipziger Lerchen", a pastry made of shortcrust pastry with marzipan: this is the cherry on the cake of an afternoon spent in a coffee shop. And when we think of Thuringia, our mouths start watering: the Thuringian Rostbratwurst is a true culinary treasure!
Delicacies from Bavaria, Württemberg and Baden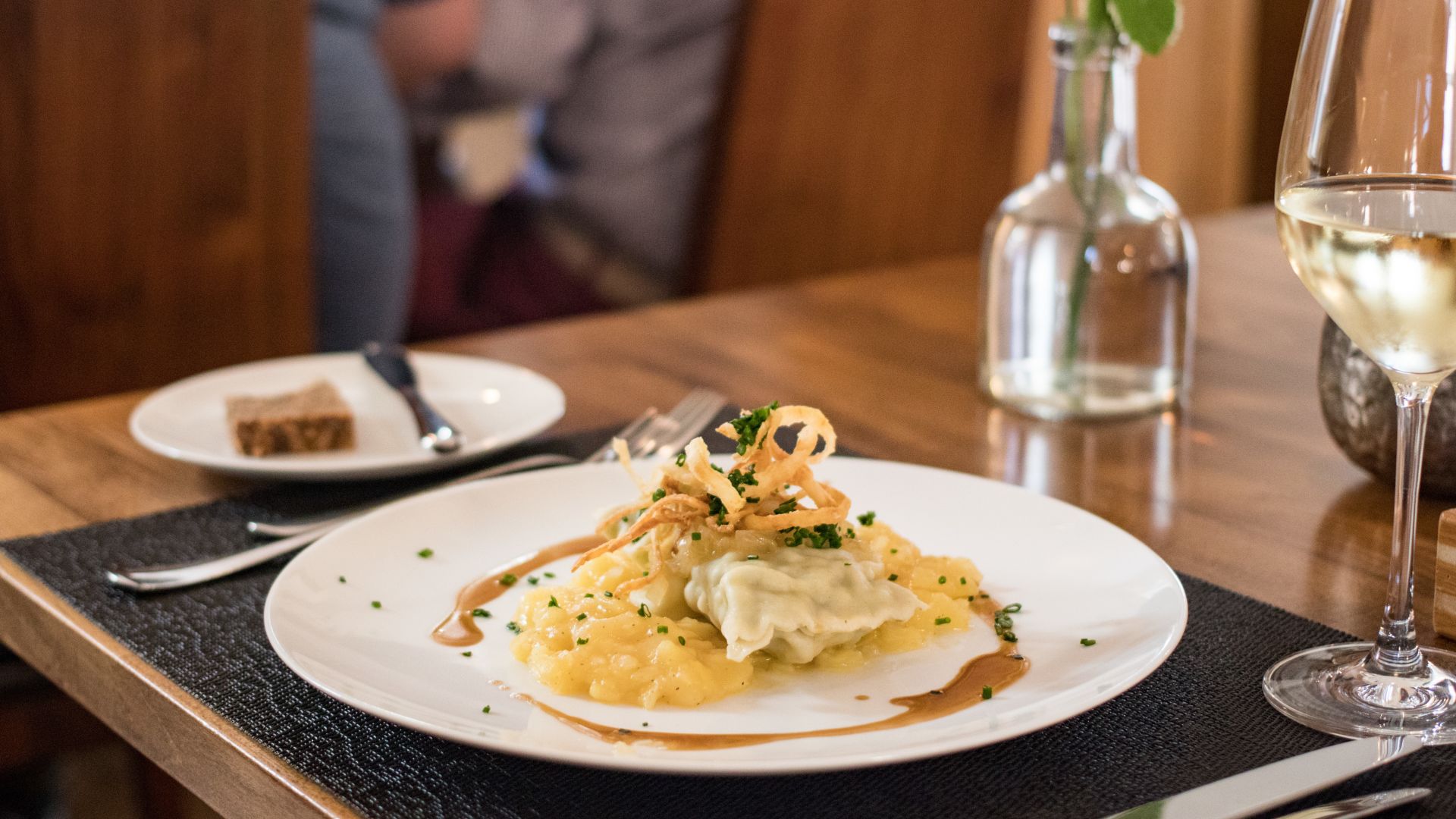 Some German recipes that are also well-known abroad come from the southern regions of Germany: Bavaria, Baden and Württemberg to be precise. Last but not least, the Oktoberfest in Munich has contributed to the popularity of these dishes for decades – after all, the international guests want something "typically Bavarian" to enjoy with their Maß (one litre of beer). For this reason in particular, the Weißwurst, Bratwurst, and Schweinshaxe (ham hock) with sauerkraut and warm Leberkäse (meat loaf) often exemplify German cuisine. Of course, that doesn't do it justice, because typical Bavarian cuisine has more to offer than that. It's not just Maultasche dumplings and Spätzle that come from Württemberg. Almost 1/3 of all Michelin-star restaurants in Germany are located in this state. In Baden, people are also very fond of good food - and the culture around food and drink is very vibrant and enticing. You can clearly feel the influence from Alsace, from French cuisine in general and from Switzerland there. There is Baden snail soup, tarte flambée or Ofenschlupfer bread pudding – to name just a few hearty dishes.

Our brief summary does not do German food complete justice. There are so many delicacies to discover in Germany and there's only one thing to do: the proof of the pudding is in the eating. Throw yourself into these delicious delights, talk to the market vendors and ask for the best specialities. And then: just enjoy!