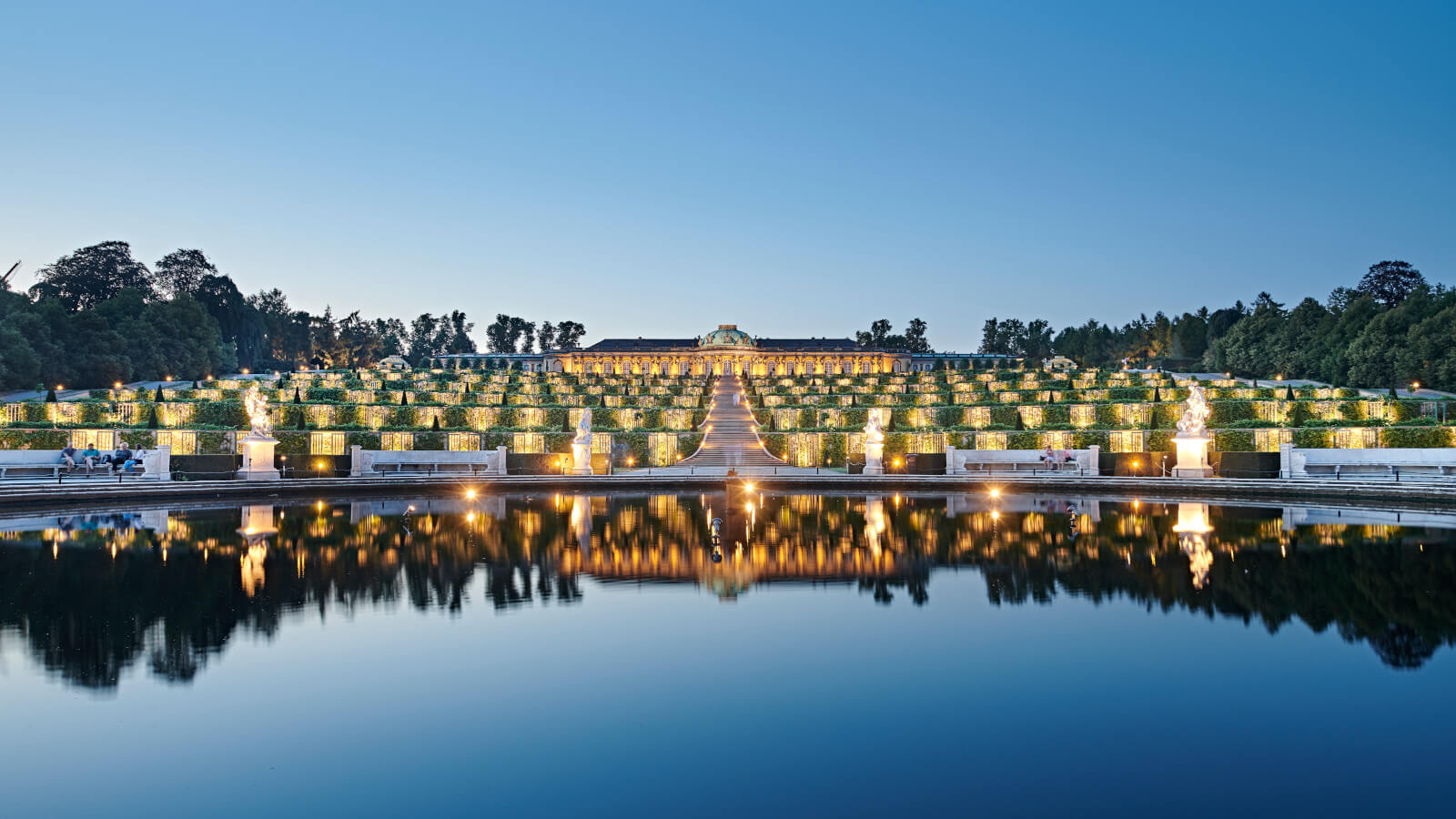 Inspiring Germany
Brandenburg – a holiday destination specialising in nature, culture and water
It's hard to imagine such vast countryside being so close to Berlin and yet you can't get to the capital without passing through this holiday destination. After all, the metropolitan area is surrounded by the nature, culture and lakes of Brandenburg. Breathe in the fresh air. Be at one with nature. Get moving. This is what holidays in Brandenburg are all about!
Nowhere else in Germany are contrasts quite as striking as in this region on the capital city's doorstep. The pristine green spaces of Brandenburg surround the buzzing metropolis of Berlin. All of this is just under an hour's drive from the city. Far-reaching horizons, world cultural heritage and a wealth of lakes and rivers. So close. Yet so far. And so diverse. The sparsely populated Uckermark district is imagined as a Tuscany of the north. The Spree Forest is a little Venice with its busy network of rivers and canals. And Potsdam, a city of UNESCO World Heritage, is like the Arcadia of Brandenburg, boasting splendid palaces, lush landscaped parks and over 1,000 years of history.
No matter what the planned activities or the final destination may be, holidays in Brandenburg come in all shades of green! Around a third of the region falls within a protected natural area, given that the Lower Oder Valley National Park, three UNESCO Biosphere Reserves and eleven nature parks can be found here. Visitors can see the almost completely unspoiled countryside with their own eyes here. They can take time to explore the narrow waterways of the Spree Forest in a wooden boat or pick up the pace and get more adventurous in a canoe. They can take a stroll through the fens and forests of the Schorfheide. Or travel across the region by bike on more than 7,000 kilometres of cycle paths, following the Havel, Oder and Spree Rivers and ending up in Copenhagen or at the Polish border. Then it'll be time to relax! Perhaps with a spa treatment featuring linseed oil, crystal stones and apricot kernels, and an aromatic soak in a wooden tub. Or a trip to the thermal baths in Bad Belzig, Templin, Bad Saarow or elsewhere.
There's also plenty of opportunity for a spot of culture just outside of Berlin. This may come in the form of more than 500 castles, palaces and stately homes. Prussian landscaping and architecture. Open-air festivals in historical settings. The music festivals at Potsdam's Sanssouci Palace and the Brandenburg Summer Concerts. Landmarks from throughout Germany's divided history and relics from Brandenburg's industrial heritage. A bike ride along the Wall Path, a walk across Glienicke Bridge or a trip to the Cecilienhof Country House. With more than 3,000 crystal-clear lakes and 30,000 kilometres of rivers, Brandenburg is the region of Germany with the most inland waterways. Visitors can take it easy on a boat trip or get sporty on a wakeboard, canoe or hydrobike. Cruise by Rheinsberg Palace on a barge or go sailing on Scharmützel Lake. This region surrounding the capital is a water wonderland and one of Europe's biggest destinations for water sports. So far. And yet so close.
© TMB Tourismus-Marketing Brandenburg GmbH