Good chances for tourism restart in 2022
Dear reader,
As we ease our way into 2022, we say goodbye to a year that has given us plenty to think about. We know that the current situation remains extremely difficult for many of our partners in Germany's inbound tourism sector and in the international travel industry.
At the moment, it is difficult to predict how the pandemic will develop, both at home and in our many international source markets. The situation for the global travel industry remains challenging as we look forward to the year ahead.
2021 was the second year in a row that coronavirus was the defining influence on international tourism. Hopes for a swift end to the crisis thanks to the development of vaccines were dashed by the emergence of new virus variants. As a result, any optimism that we might see a rapid recovery of travel during the summer months was met by the harsh reality of the third and fourth waves in the autumn.
Where do we go from here? Has all the hard work of the market players been for nothing? When will the many innovative approaches and ideas for making travel safer again finally reap rewards? Or will further waves keep setting us back?
Will 2022 bring a turnaround out of the crisis and into a future that seamlessly builds on the successes of the past?
In early 2021, we were talking about a year of transition. And it was, but on a significantly broader level. While the forecasts at the beginning of the year were still dominated by the question of when which source market and which travel segment would return to pre-crisis levels, we are now talking about profound changes across the industry that will be critical for our future.
Many studies show that the future of tourism will look different from what we might have imagined not that long ago. The main takeaway from two years of the pandemic is that the huge impact that coronavirus has had on international tourism will not be easily overcome.
The long-term objective has already been outlined in the position paper adopted by the German government in April 2019 to provide a framework for the national tourism strategy:
"We strive for quality tourism that works in harmony with nature and culture to create and maintain spaces worth living in, enhances the quality of life of visitors and local residents alike, and has a positive impact on Germany's image abroad.
We want to establish a digital infrastructure and modern, accessible, reliable and sustainable transport that take the travellers' needs and the challenges of growing traffic into account."
Given the significant fall in revenues in the tourism sector, the aim of the restart is to boost the competitiveness not only of Germany as a travel destination but also of its tourism industry, which predominantly consists of small and medium-sized enterprises, and thus increase value creation at a domestic level.
Today, I would like to share with you an assessment of key trends that have emerged and accelerated over the two years of the pandemic: How is the context in which the international tourism industry operates changing? What consequences and what opportunities might arise from this for inbound tourism to Germany in the coming years?

1. International desire to travel
Market research institutes have been studying the impact of the pandemic on travel behaviour for over two years now. The common thread running through the surveys is that the desire to travel has steadily increased worldwide despite repeated waves of coronavirus infections. Polls carried out by IPK International on behalf of the GNTB in 18 of Destination Germany's source markets certainly confirm this trend.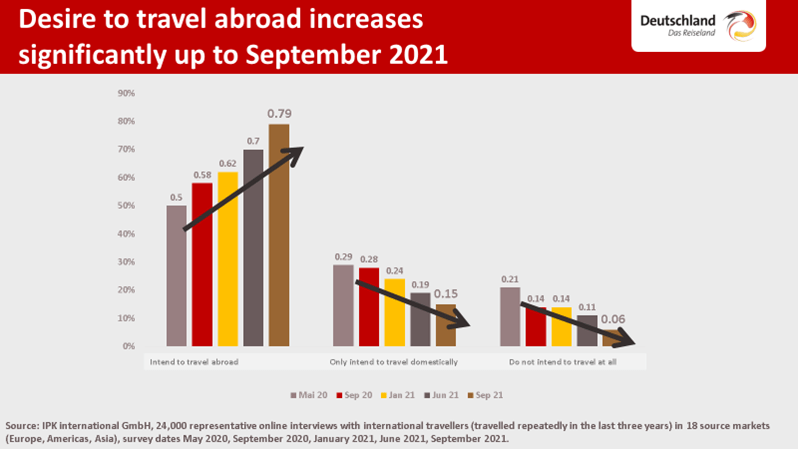 When it comes to coronavirus, travellers around the world are becoming more confident and less cautious.
We are seeing a strong desire for travel, leisure time and cultural experiences. The European Travel Commission's latest survey on intra-European travel intentions, conducted in September 2021, gives a clear indication of where travellers want to go. And it appears that cities are going to be the winners.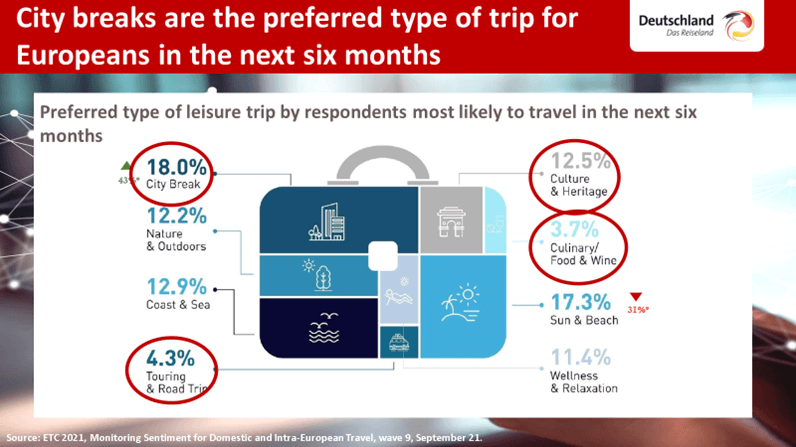 This represents a huge opportunity for Germany as the no. 1 destination for Europeans wanting city breaks and cultural travel.
To better understand this shift in demand, we are pushing ahead with the implementation of business intelligence, which involves analysing, assessing, linking and presenting data from a wide range of sources. A detailed review of the analyses according to source markets, market segments, customer needs and target groups will allow us to set the right course for the post-coronavirus phase.

2. Brand image, customer satisfaction, desire to return and a high number of recommendations bode well for the restart
In the second year of the pandemic, Germany was able to defend its top ranking as a global brand in the Anholt Ipsos Nation Brands Index (NBI). It was particularly encouraging to see how positively our management of the health crisis was viewed in the 50 countries surveyed.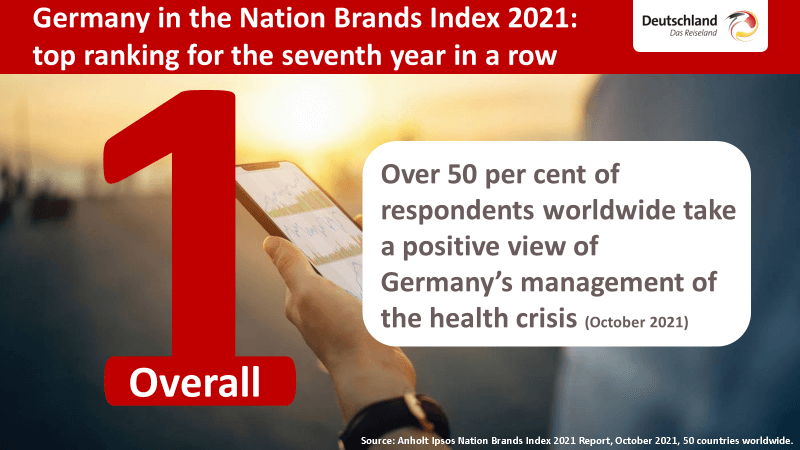 This boosts Germany's credentials as a safe destination, as health is still the top priority for international travellers. (Source: ETC, Monitoring Sentiment for Domestic and Intra-European Travel Wave 9, September 2021)
A closer look at the NBI performance and driver analysis reveals the top three factors that shape Germany's global image as a tourism destination.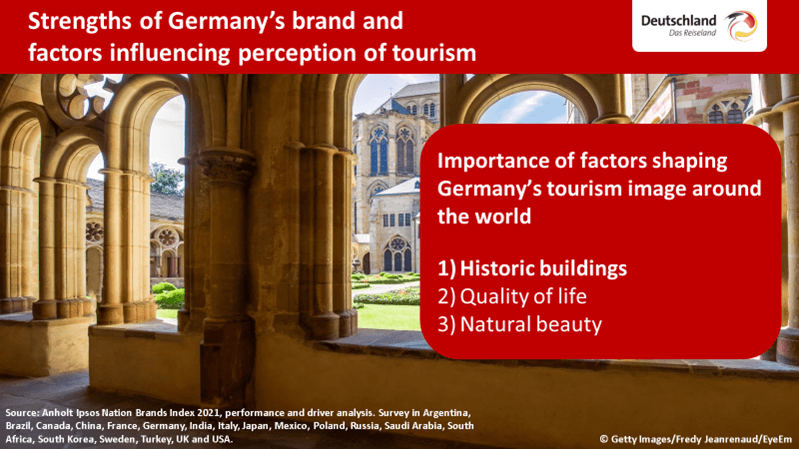 We also asked how Germany is actually viewed by visitors to our country.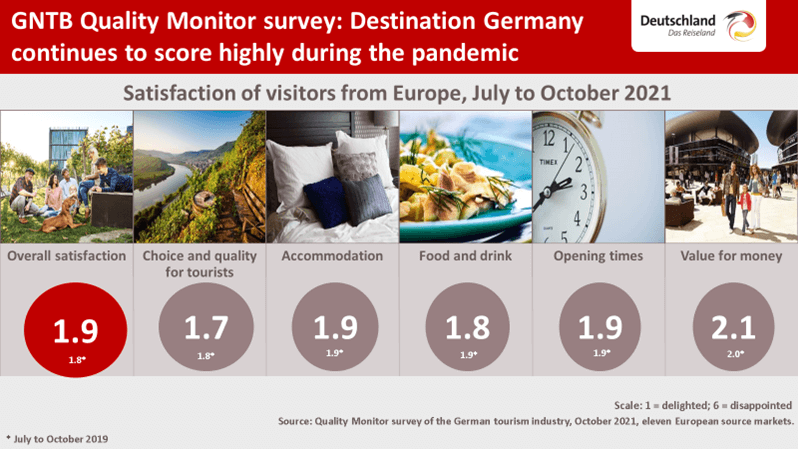 The latest findings of the Quality Monitor survey of the German tourism industry, based on responses from visitors from eleven key European source markets, bear out the high standards of quality that we are looking for. Satisfaction among our guests remains at the high level of recent years, even in direct comparison with the pre-pandemic year of 2019.
Our European visitors are quite certain that they will return to Germany in the next three years.
No less impressive is the number of European visitors recommending Germany as a travel destination. In the Net Promoter Score, Germany achieved an excellent score of 72, even better than in the prior year, for the question 'How likely are you to recommend Germany as a holiday destination to your family and friends?'.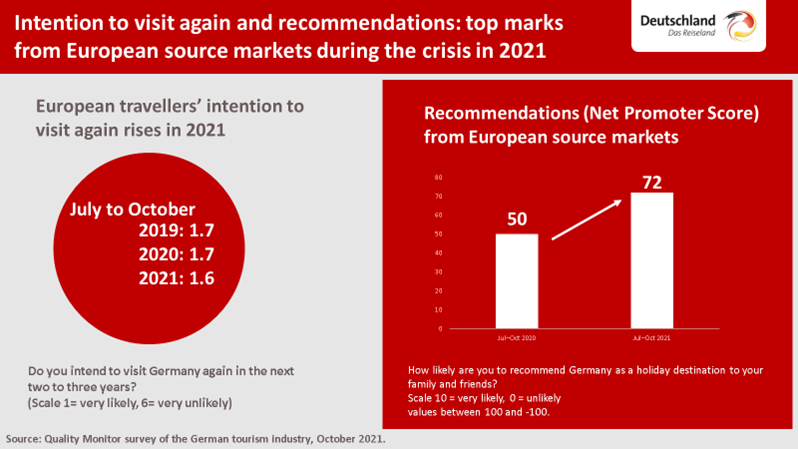 3. Digital transformation: the pressure to act is increasing
Digitalisation has long been established as an area for action and a driver of change. What I find particularly interesting is the depth that these processes have reached, in terms of both the customer expectations and the offerings from the tourism industry.
According to research into the impact of COVID-19 on international tourism conducted by IPK International on behalf of the GNTB in October 2021, three quarters of international travellers worldwide think that digital tourism offerings are very important.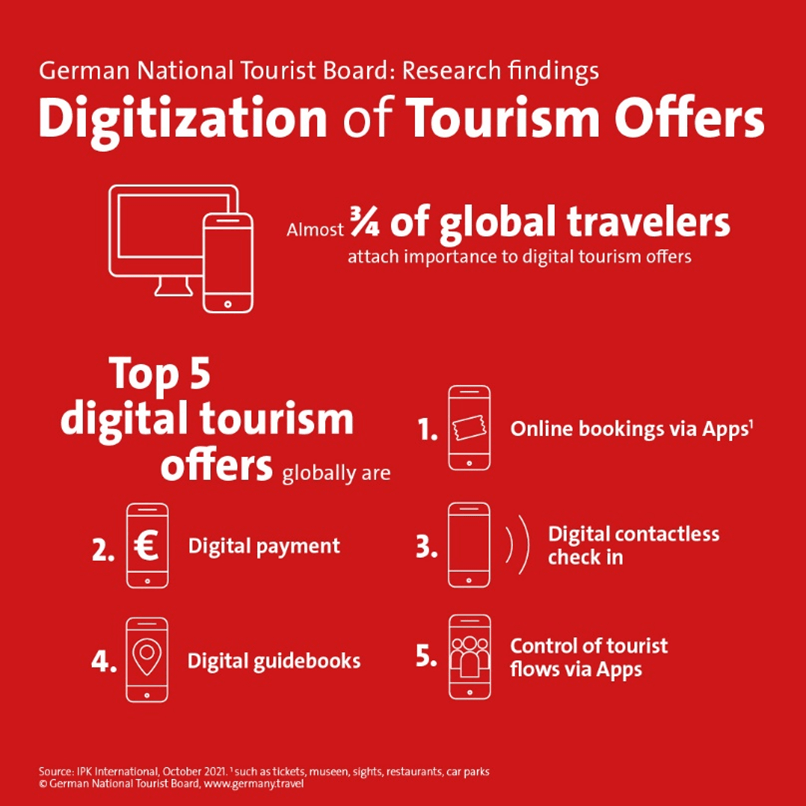 Topping the list of digital tools demanded by travellers is the ability to book components of the trip online, such as tickets for museums and attractions, tables at restaurants or parking via apps, with a share of 56 per cent. The option to pay digitally, for example via Apple Pay or Google Pay, takes second place with 44 per cent, while 40 per cent of respondents are interested in contact-free digital check-ins. And 36 per cent would use digital guides such as e-books and apps rather than printed travel guides.
To meet customers' growing expectations with regards to digital information and services, we have to make all necessary data available. Open data is paving the way for the development and implementation of AI-based applications and the digital destination, which offer the prospective visitor extra convenience and a wide range of additional services.
Our joint open data/knowledge graph project is the key to remaining competitive in the international markets. The GNTB initiated this data infrastructure project in 2018 and has been coordinating the overall venture ever since.
I am happy to report that the tourism industry's work in bringing together data from across the sector and across the country and marking it up with semantic information is now viewed throughout the German economy as a model project.
But what has also become apparent, when compared to other European destinations such as France, is that we urgently need to gain further momentum. A fierce pace is being set thanks to technological progress, the reorganisation of the international travel industry as a result of increasingly dominant global platforms and, last but not least, the customers and their rapidly changing travel behaviour.
In short, unless our data is open, we will find ourselves lagging behind our competitors. We no longer feature on the main search and sales platforms of the global tourism industry.
The open data/knowledge graph project remains a Herculean task for everyone involved. Partner processes must be geared towards maintaining the data sets, funding must be made available and training must be provided.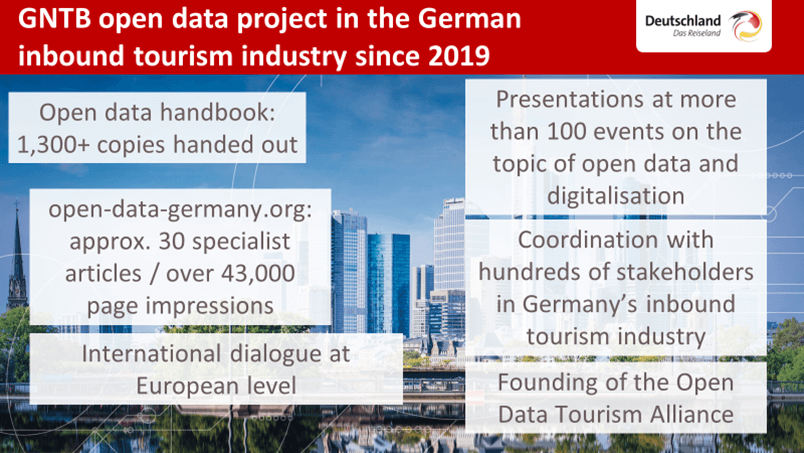 The founding of the Open Data Tourism Alliance (ODTA) represents our next step towards a genuinely pan-European project. The successor organisation to DACH-KG enables national tourist boards and regional tourism organisations from Germany, Austria, Switzerland, Italy and Sweden to drive the cross-border standardisation of semantic data models for tourism information on the basis of the schema.org guidelines. This will help to boost digitalisation in European tourism. The ODTA is structured in a way that allows other market players to join at any time.
Members, partners and interested parties can access information on the project's strategic importance, its current status and progress with the data migration on the website www.open-data-germany.org. The site also provides many practical tips and help with getting started in the digital future of tourism.

4. Sustainability is becoming a mark of quality
According to the 2021 NBI, protecting the environment and Earth's natural resources are two of the most pressing challenges facing the world right now.
This means a significant shift in values in international tourism. Qualities such as mindfulness, respect, authenticity, peace of mind and certainty when planning and organising travel are becoming ever more important to customers. Of the international travellers surveyed for the 2021 Sustainable Travel Report published by Booking.com, 61 per cent stated that the pandemic was motivating them to take a more sustainable approach to travel.
The UNWTO has moved away from its purely growth-oriented focus of previous years and shifted to a 'build back better' strategy as part of its efforts to manage the current crisis. Exactly one year ago, I discussed the subject of sustainability in greater depth in this blog post.
As a travel destination, Germany can benefit from this shift: In the 2021 NBI, Germany was named as one of the countries likely to handle climate change the best. And in the 2021 Sustainable Development Goals index, which tracks progress in respect of the global climate goals, we climbed up by one rank into fourth position.
Along with the focus areas of the European Green Deal, the UN sustainable development goals serve as guidelines for the German government's sustainability strategy as set out in 2021.
This provides a solid foundation from which the German tourism sector can continue to drive forward its long-standing efforts to position Germany as a sustainable travel destination.
To us, the term 'sustainable tourism' describes practices that:
make efficient use of the environmental resources that are a key factor in the development of tourism and contribute to the protection of important ecological processes,
promote the preservation of our planet's natural heritage and biodiversity,
help to reduce emissions and the consumption of resources,
respect authentic expressions of social and cultural identity at the destinations as well as their cultural heritage and traditional values,
further intercultural understanding and tolerance,
strive for inclusivity both on the provider side and on the customer side,
safeguard long-term business operations that bring socio-economic value to all stakeholders, and ensure that this is shared fairly,
support regional economic cycles and create stable employment and income,
are innovative and make use of the opportunities presented by the digital revolution.
I strongly believe that national tourism organisations (NTOs) and destination marketing organisations (DMOs) need to lead by example if sustainable tourism is to be promoted in a credible manner. As an organisation, we too have been tackling the opportunities and challenges of sustainability for many years and are applying principles of corporate social responsibility (CSR) and sustainable corporate governance.
The GNTB has been certified as a Green Globe organisation for eight years. It was even awarded gold status for a period and has been making continuous efforts to develop its various organisational units in a sustainable direction. As an organisation that strives to learn and improve on an ongoing basis, we are strongly committed to topics such as sustainable resource and event management, offsetting carbon emissions generated by travel, inclusivity, the compatibility of work life and family life, and continuing professional development, as well as providing training opportunities for the next generation of tourism professionals.
Starting in 2022, the GNTB will publish annual sustainability reports.
In addition to sharpening our organisation's internal focus on sustainability, we strongly support the development of sustainable tourism in Germany, efforts to make sustainability a core facet of the Destination Germany brand and the presentation of compelling sustainable tourism offers at international level.
This approach will neither limit our options nor force us to take a step backwards. Quite the opposite: Our objective is to focus on high-quality tourism. And for a growing number of customers, sustainability will become a key requirement of an outstanding holiday experience.
Many tourism enterprises in Germany have already developed innovative and ambitious concepts for sustainable products that strike a healthy balance between economic benefit, environmental protection and social responsibility.
Our Feel Good campaign features certified tourism offerings that rise to this challenge. The campaign is attracting considerable attention, including at international level, and has garnered a number of prizes, including the WTM's 2021 World Responsible Tourism Award and the European Cultural Travel Network's Destination of Sustainable Cultural Tourism Award 2021. We will use this tailwind to continue to drive the campaign forward in 2022.

5. Changes in the world of work may provide a boost for tourism – we are unlocking new areas of potential
The pandemic has accelerated a trend that has been observable in the world of work for a number of years – namely the fact that digital technologies often eliminate the need for physical presence in a specific workplace.
Just a few years ago, digital nomads, i.e. people who can work from practically anywhere in the world, were still something of a rarity. Now, working from home or on the go has become a standard feature of the way we work. These days, a good work-life balance ranks very highly among the personal priorities of employees.
In a world where working remotely is normal, concepts such as 'workation' (work vacation) and 'bleisure' (business and leisure) are only one small step away. The spheres of work and leisure are moving closer together. And changes in the work environment are providing new opportunities for tourism destinations. Places that can offer the necessary digital infrastructure gain appeal as a potential temporary home and workplace.
There are plenty of great examples of hotel businesses that have started to use their existing infrastructure for new business models – for example as shared offices or co-working spaces.
These developments go hand in hand with new models in the business travel segment. Our strategic partner in this field, the German Convention Bureau, is already leading the way with projects such as the Future Meeting Space.
Employers also need to make the tourism sector a more attractive area to work in. The pandemic and its fallout have made the shortage of skilled workers in our industry much worse.
Hotels and restaurants, in particular, are emerging from the crisis with a dearth of properly trained staff as many have left to pursue opportunities elsewhere.
Common demands currently include more attractive training programmes, higher wages, flexible working time models and better opportunities for career progression.
Many recent publications from industry associations and organisations in the tourism sector go into greater detail on these matters. I would specifically recommend the Perspektive 2025 report produced by the German government's Centre of Competence for Tourism.
The trends outlined above reflect both an abundance of opportunities for inbound tourism to Germany and the challenges associated with them. The 'Germany simply inspiring' brand remains a top contender in the global elite of travel destinations.
Our team at the GNTB wants to work closely with you to build on the successful steps we have taken over the past few months and to actively support the recovery of tourism SMEs. Given that many of our partners will have greatly reduced advertising budgets – or no such budget at all – we feel a strong sense of duty to support the reopening of our sector.
However, increased spending by international competitors risks Destination Germany being left behind. Investment in digital technologies is urgently needed to secure the future of our industry. The sector will continue to require additional financial support at all levels of the public funding infrastructure.
It will remain important to act in an evidence-based and customer-centric manner, to promote the sustainable development of Destination Germany and to regard tourism as a holistic endeavour that must balance the interests of visitors, locals and natural resources. The pandemic has made all of us acutely aware of how valuable our health is. Holidays are an opportunity to recharge, both mentally and physically, and they help to bring cultures together. Tourism brings in money, for sure. But it does so much more than that.
The industry should not be shy in using the available forums for debate to emphasise the role it plays in society.
Best regards,
Petra Hedorfer