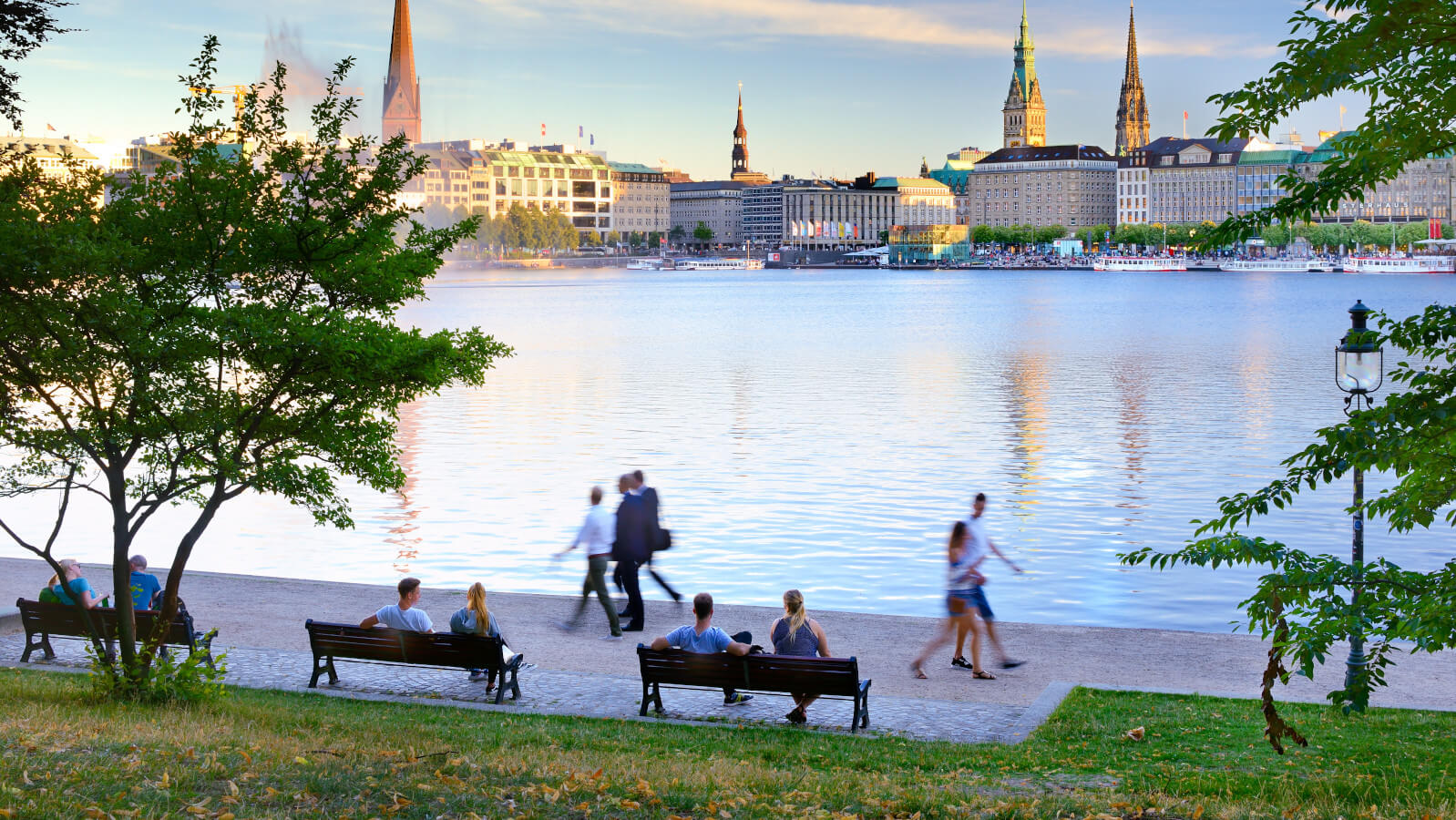 Inspiring Germany
Hamburg – Europe's green city on the Alster and Elbe
The Hanseatic city of Hamburg is one of Europe's finest urban areas thanks to its maritime charm and cosmopolitan outlook. City living and the wonderful world of nature are intertwined here, with no end of hotels, restaurants, theatres and shops, cool beaches along the River Elbe, the verdant banks of the Alster, a busy port and landmarks from throughout the city's 1,200-year history awaiting visitors.
With lush green spaces, deep-blue lakes and rippling waterways at the heart of the buzzing urban jungle, Hamburg proudly proves that the natural world can fit right into city life. The "green city by the water" made a name for itself some time ago and it was awarded the title "European Green Capital" in 2011. And very well deserved it was too, given that just under half of the city is covered by parks, green spaces, nature reserves and wooded areas. Alongside all that, the port, canals and Alster Lake bring a certain maritime charm to the Hanseatic city.
There is so much fun to be had at this international port – the beaches, quays, jetties, luxurious cruise ships, huge container carriers and lovingly restored museum ships are not to be missed. And it's not unusual for visitors to get a longing to visit distant shores. No visit to Hamburg would be complete without a tour of the port and the historical Speicherstadt district, which is home to old warehouses and bridges. And this is also where the world's largest model railway, Miniatur Wunderland, is located.
We mustn't forget that Hamburg also has a flourishing fashion and culture scene. Elegant shopping centres, high-end boutiques, antique shops and delis entice shopaholics through their doors to shop 'til they drop. Evening entertainment is provided at more than 300 theatre, musical, variety and cabaret venues. Not to mention global hit musicals such as Disney's "The Lion King". What else would we expect from such a cosmopolitan city?
The Elbe Philharmonic Hall has come to be a symbol of progressive music since the spectacular concert hall became the latest landmark to adorn the streets of the HafenCity quarter. The Reeperbahn, Hamburg's trendy party area, is home to countless clubs, discos, bars, pubs and cafés that promise hours of fun. Hamburg is also known far and wide for the Hamburger DOM, which is the largest funfair in the north of Germany, the Alstervergnügen City Festival, the Port Anniversary, the Sunday Fish Market, the Japanese Cherry Blossom Festival and the festive celebrations in the city, which welcomes plenty of Christmas markets.
© Hamburg Tourismus GmbH