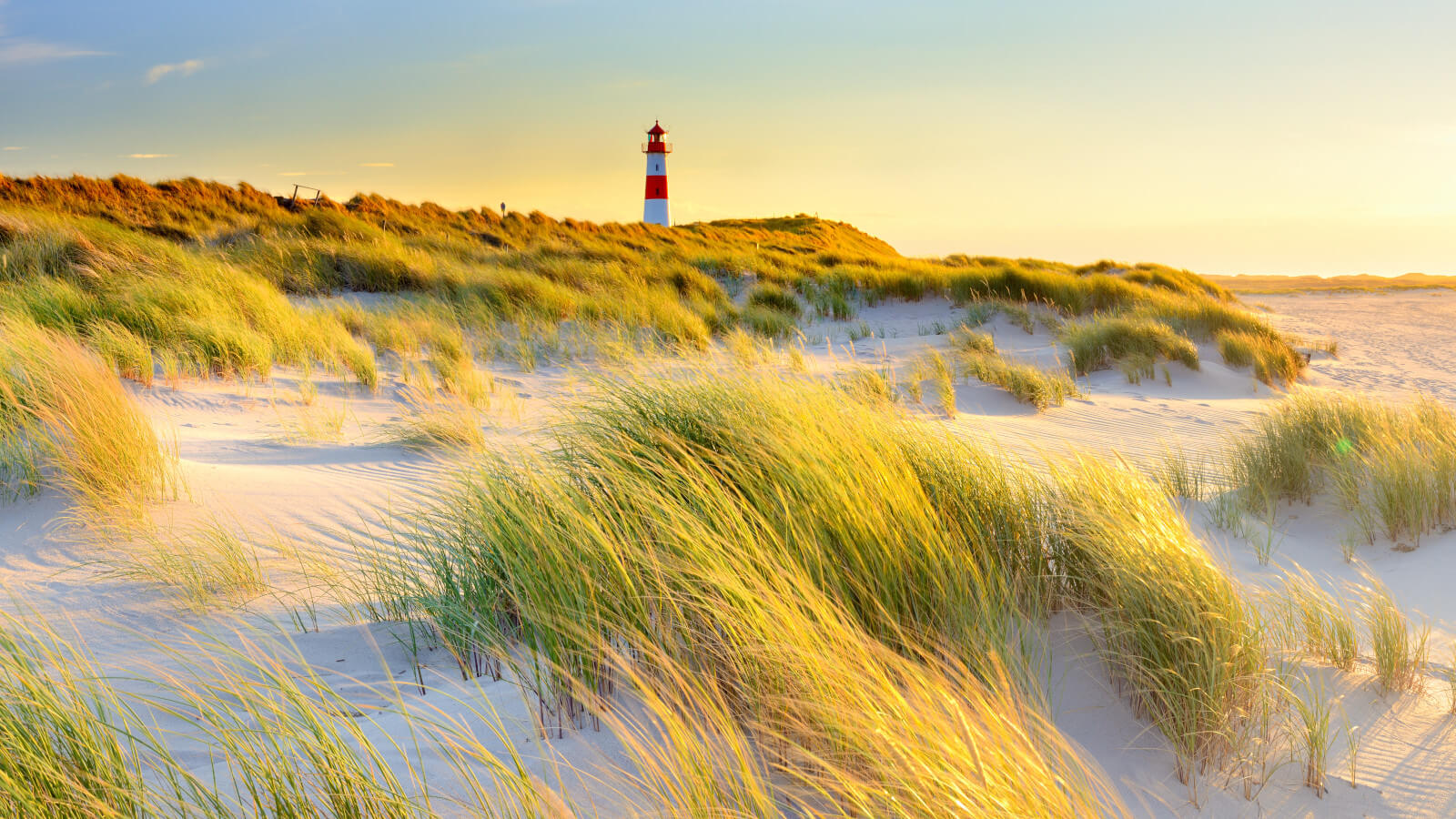 Inspiring Germany
Schleswig-Holstein – holidays in the real north
The Schleswig-Holstein region is defined by the North and Baltic Seas. Wind, wetlands and waves – the ebb and flow of the waters have a major influence on the way of life here. What a perfect holiday destination for families, water sports fanatics and nature lovers!
The federal state of Schleswig-Holstein is way up in the north of Germany with Kiel as its capital. Holidaymakers heading for Schleswig-Holstein can expect a fresh breeze, dykes as far as the eye can see, beaches and dunes. Basically, they need to get set for unadulterated nature. Pretty cycle paths entice tourists to set off on a bike ride, whilst islands call to be explored on fascinating excursions and sailing trips. Then there's the option of taking a canoe or kayak out onto the many rivers and wetlands. A holiday in Schleswig-Holstein is guaranteed to make everyone smile – families, couples and singles alike. Children will love exploring the beach, seaside and inland areas and discovering the diversity of nature and the excitement of the museums and parks. Schleswig-Holstein is the perfect place to combine a relaxing break with sporting activities. The harsh, bracing climate, sun, sand and seawater are just the ingredients required to raise the spirits and boost the immune system. Schleswig-Holstein is shaped by seas, coastlines, waterscapes, nature reserves and national parks.
Regions, towns and cities
The diverse land between the two seas is just waiting to be explored. Each region oozes its own unique charm... The Wadden Sea World Heritage Site and dykes define the North Sea area, whilst the Baltic Sea coast boasts remarkable cliffs and white sandy beaches. The charming inland region, then, has picturesque lakes nestled amongst gently rolling hills. The Duchy of Lauenburg, the southernmost district of Schleswig-Holstein, is a hotspot holding plenty of promise for holidaying nature lovers with its vast wooded areas and countless lakes. The towns and cities in Schleswig-Holstein ooze a certain maritime charm and are home to historical buildings, unlimited shopping opportunities and impressive cultural highlights.
Wadden Sea World Heritage Site
The Schleswig-Holstein Wadden Sea UNESCO World Heritage Site and Biosphere Reserve covers 4,430 square kilometres from the Elbe estuary to the Danish border. Large areas of this remarkable natural space, designated a national park, remain in their original pristine state to this day.
© Tourismus-Agentur Schleswig-Holstein GmbH