Inspiring Germany
Germany's records and bests
The most leaning tower in the world, a city that predates Rome and the largest cuckoo clock to ever be created... Who knew there were so many incredible records just waiting to be discovered in Germany?
What springs to mind when you think of Germany? People never being late, clean towns and an impressive infrastructure? Well, you're right there! But Germany has plenty of surprises up its sleeve too, you know. Prepare to be amazed as we take a look at some of the crazy and unbelievable records that have been broken in Germany... 
Cologne Cathedral is the most iconic Gothic sacred building in Germany. The public is welcome to attend services here – as in all churches and cathedrals. Visitors can also make their way down into the treasury, which is home to relics, manuscripts and religious robes dating all the way back to the 4th century. That may seem like a really long time ago, but lots of time passing is a bit of a theme when it comes to Cologne Cathedral. After all, no other building in the world has taken quite as long to be finished.
Did you know that Cologne Cathedral was being built for six centuries?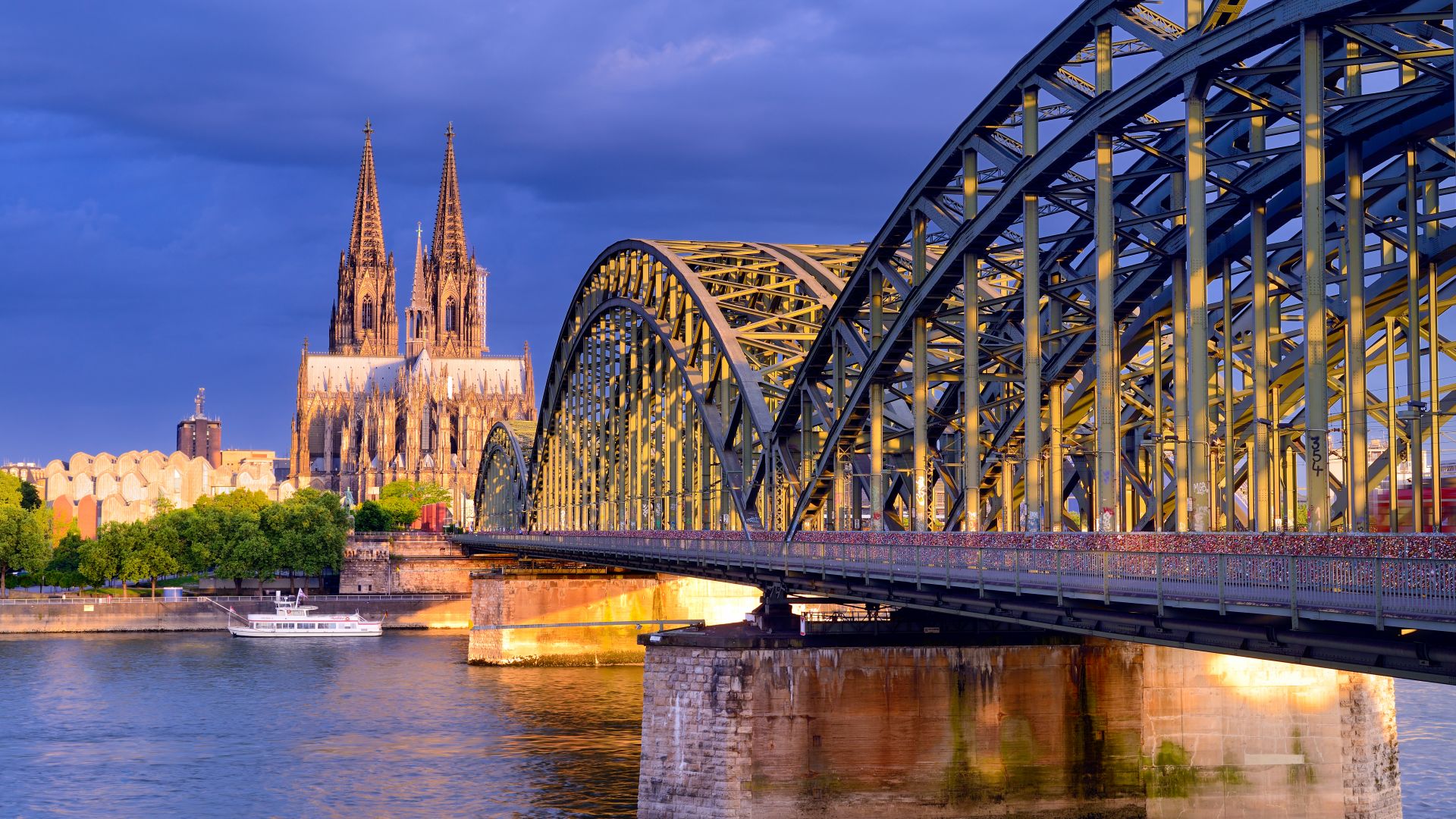 Sure, the equally famous Sagrada Familia in Barcelona is nothing short of impressive. But building work on it started in 1882 and is on track to be wrapped up soon, meaning that it won't come anywhere near the record held by Cologne Cathedral. The cornerstone of this Cologne landmark was laid in 1248 but the building work was not officially completed until 1880. So that's a period of 632 years, during which time work was put on hold for a good three centuries.  
Ready for another record? We need look no further than a Medieval fortification structure in Rhineland-Palatinate... After all, the most leaning tower in the world is now believed to be located in Dausenau as part of the old town wall. Bet you thought it was in the much more famous city of Pisa in Italy, didn't you? In actual fact, the Leaning Tower of Pisa "only" has a four-degree lean, whilst our German tower is tilted by 5.22 degrees ). Germany even boasts a church in Suurhusen in East Frisia that smashes the Italian record with its tower leaning at 5.19 degrees. The local parish organises guided tours if you'd like to find out more.
The world's largest cuckoo clock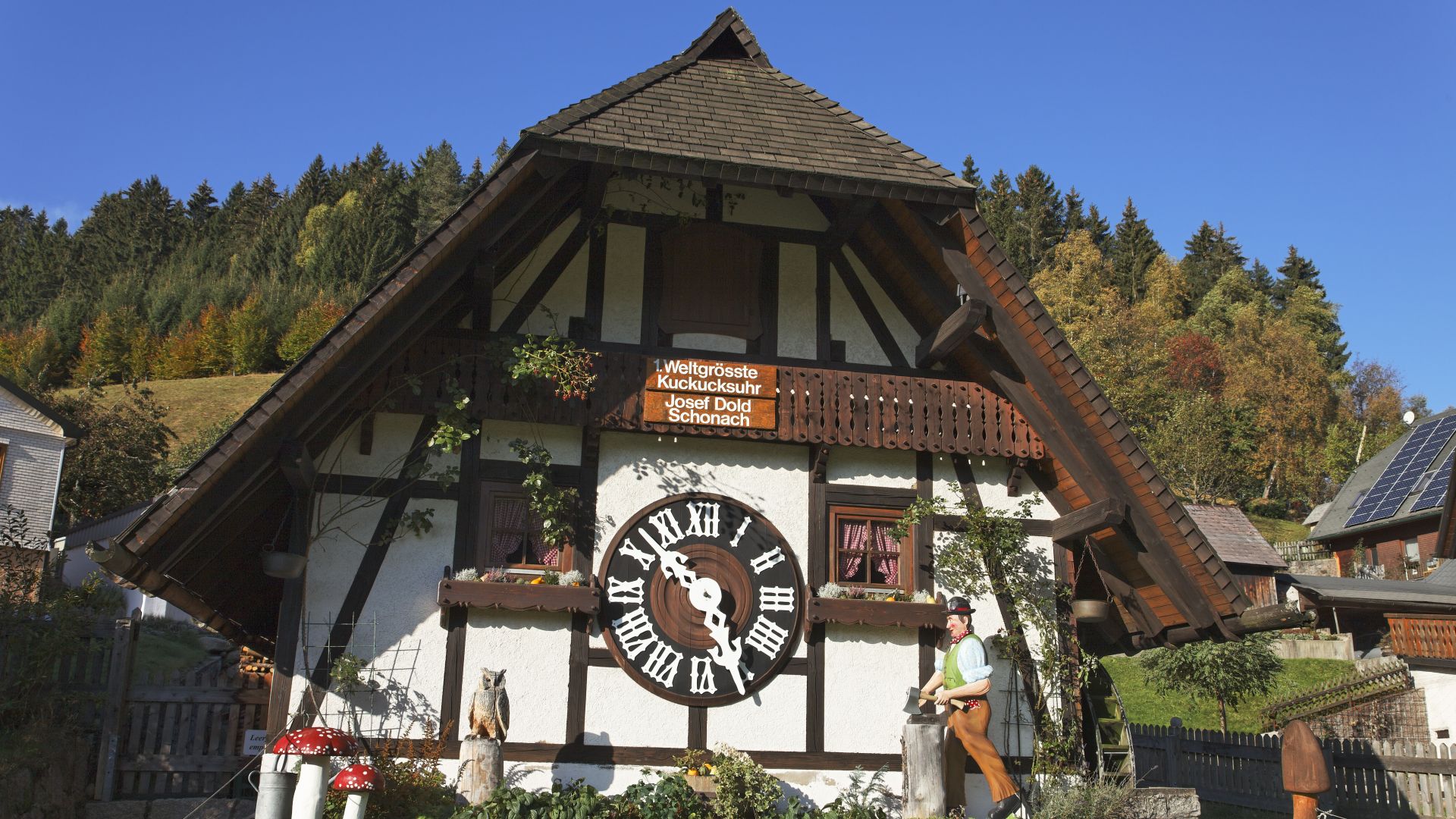 Compared to some of the other fascinating anecdotes, it didn't take that long to set a tick-tocking world record in Triberg in the Black Forest in the south-west of Germany, where the world's largest cuckoo clock was created in just five years. You can join a guided tour to explore the inner workings of the timepiece: Its mechanism measures in at 4.5 x 4.5 metres and features wooden cogs with a maximum diameter of 2.6 metres. The cuckoo alone weighs 150 kg and the pendulum is an impressive eight metres in length. The weight of the whole clock is a hefty six tonnes.
Whilst you're there, you can walk over to Triberg Nature Discovery Park, which just so happens to be the location of our next attraction – Germany's highest waterfall (outside of the Alps at any rate). Gutach River plunges over seven cascades covering an overall drop of 163 metres. If you visit this spectacular natural phenomenon, you will be treated to an absolutely stunning view from one of the footbridges, where you can feel the spray in your face. If we include the Alps in our statistics, though, Röthbachfall in Berchtesgaden National Park in Bavaria is the real German record-holder thanks to its drop of 470 metres. A footpath through the picturesque mountain landscape leads you to this impressive waterfall. Whilst we're in the Alps, we can't forget Tiefenbach in the Allgäu region – home to the Breitachklamm, the deepest gorge in Germany with rocky walls as high as 150 metres. 
Ulm Minster: the world's tallest church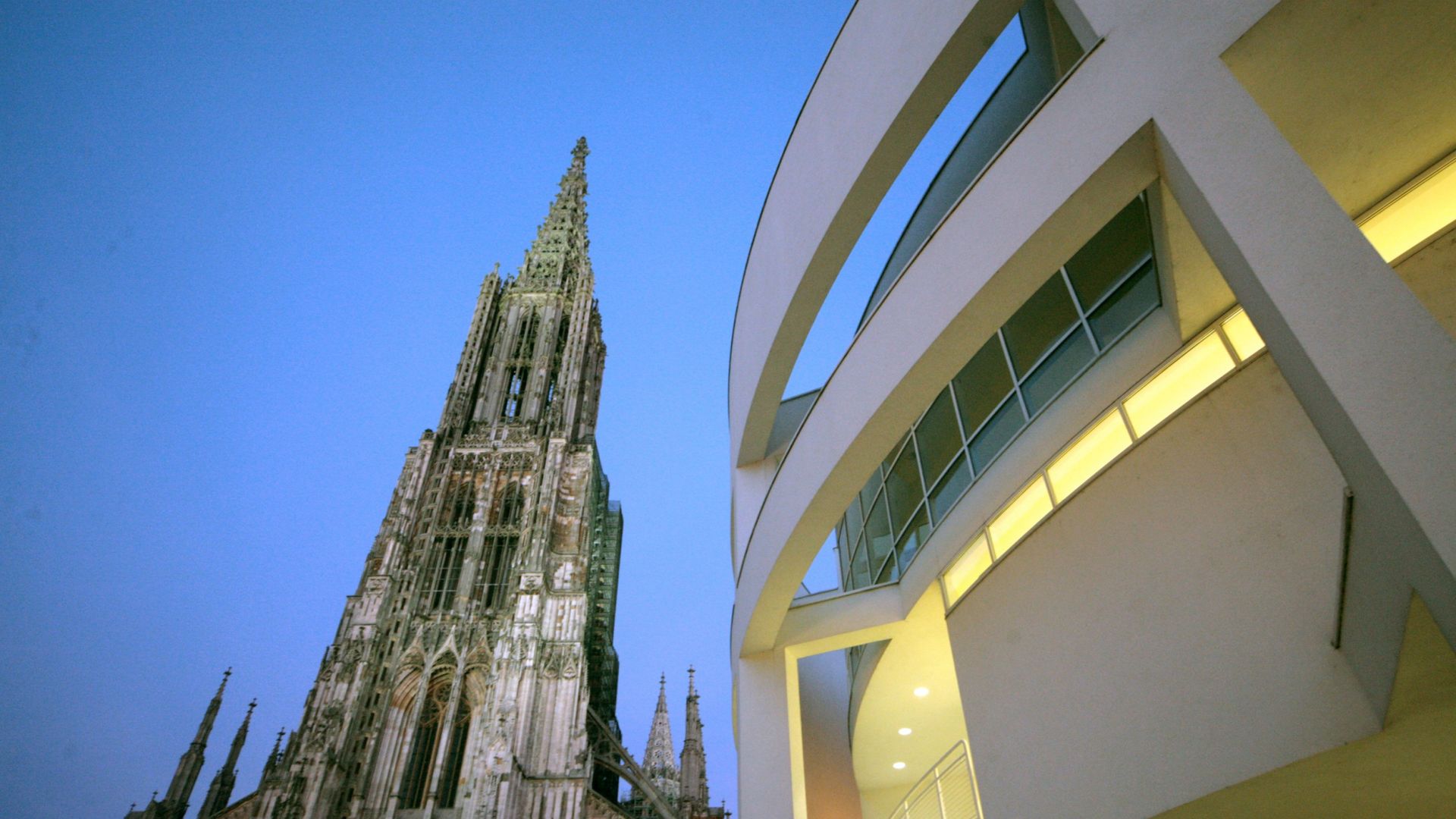 Even if you dropped Ulm Minster into this startling gorge, it would still be poking out by a good ten metres. After all, the steeple of this church in the town situated along the banks of the Danube River on the edge of the Swabian Alb measures in at 161.53 metres, making it the tallest in the world. If you want to visit the viewing platform, you'll have to climb 768 steps. But you'll be able to see all the way to the Alps on a clear day, making the effort more than worth your while. It took around 200 years to build Ulm Minster and the building managed to escape World War II largely unscathed. The building work was officially completed in 1890.
By that point, Trier had been around for some time. As you might have guessed, this city close to the border with Luxembourg is the oldest city in Germany. Well, according to the city's claims at least. Since there is no official confirmation of this status and there is some debate as to the applicable definition of a city, a number of other places believe they deserve the title instead, including Augsburg, Andernach and Worms. 
The story behind Germany's oldest city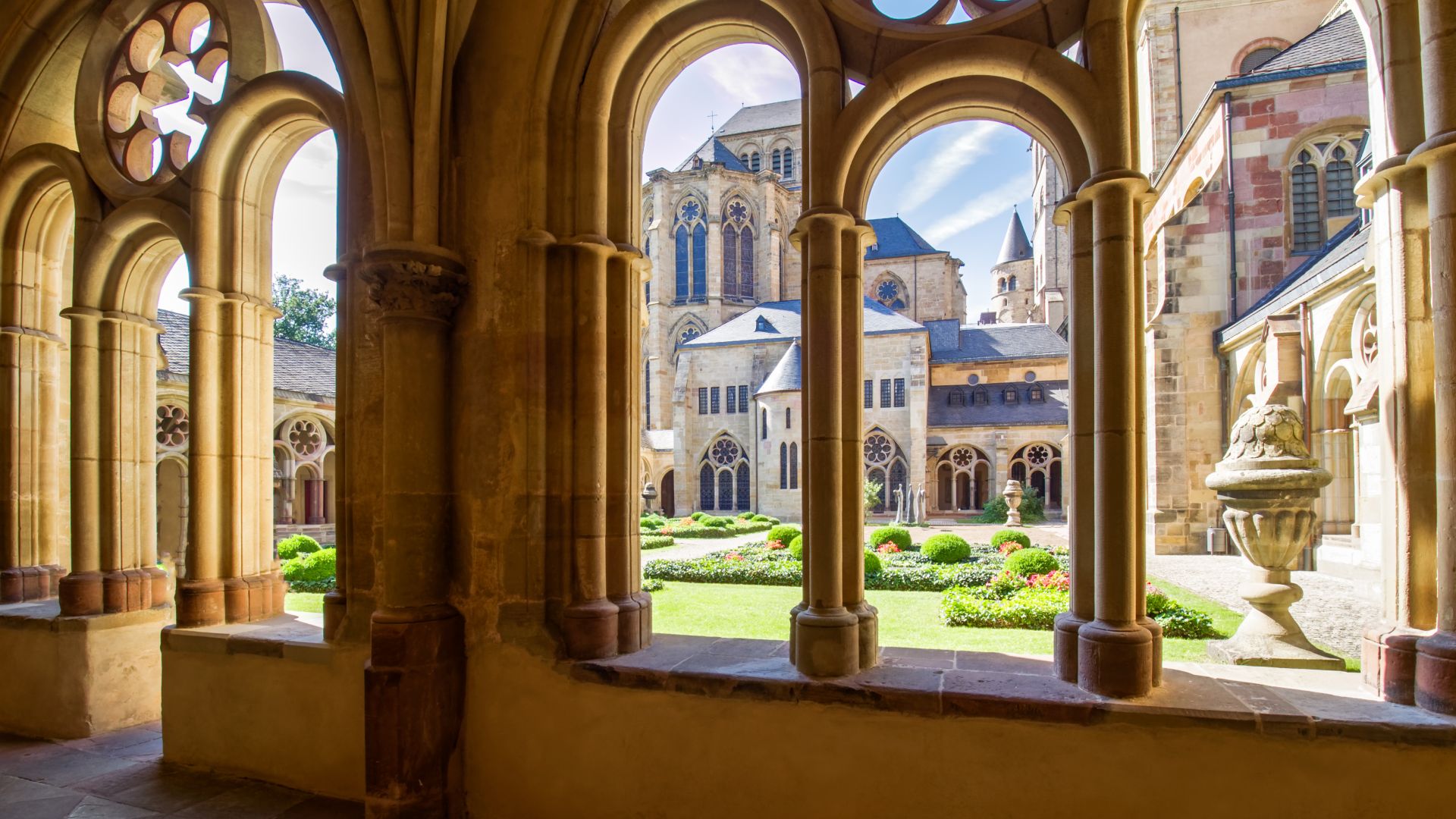 Keen to cement its place in history, Trier harks back to the story of Trebeta, the Assyrian prince who is said to have founded the city in 2050 BC. This would mean that Trier predates Rome by 1,300 years. One thing's for sure: The many Roman monuments in the city have earned it the honour of being listed as a UNESCO World Heritage Site since 1986. The famous Porta Nigra city gate is one example that has come to be an emblem of this city along the banks of the Moselle. 
Germany is proud to be home to no end of UNESCO World Heritage Sites, with the current total standing at around 50. And yet the Rennsteig Tunnel is not one of them, despite being the country's longest tunnel. Measuring just under eight kilometres (the western tube is 7,916 metres and the eastern tube is 7,878 metres), it was created as part of the A71 motorway between Erfurt and Schweinfurt and passes under the ridge of the Thuringian Forest. Work officially started back in 1998 and the German Chancellor at the time, Gerhard Schröder, declared the tunnel open in 2003.  
Germany's largest island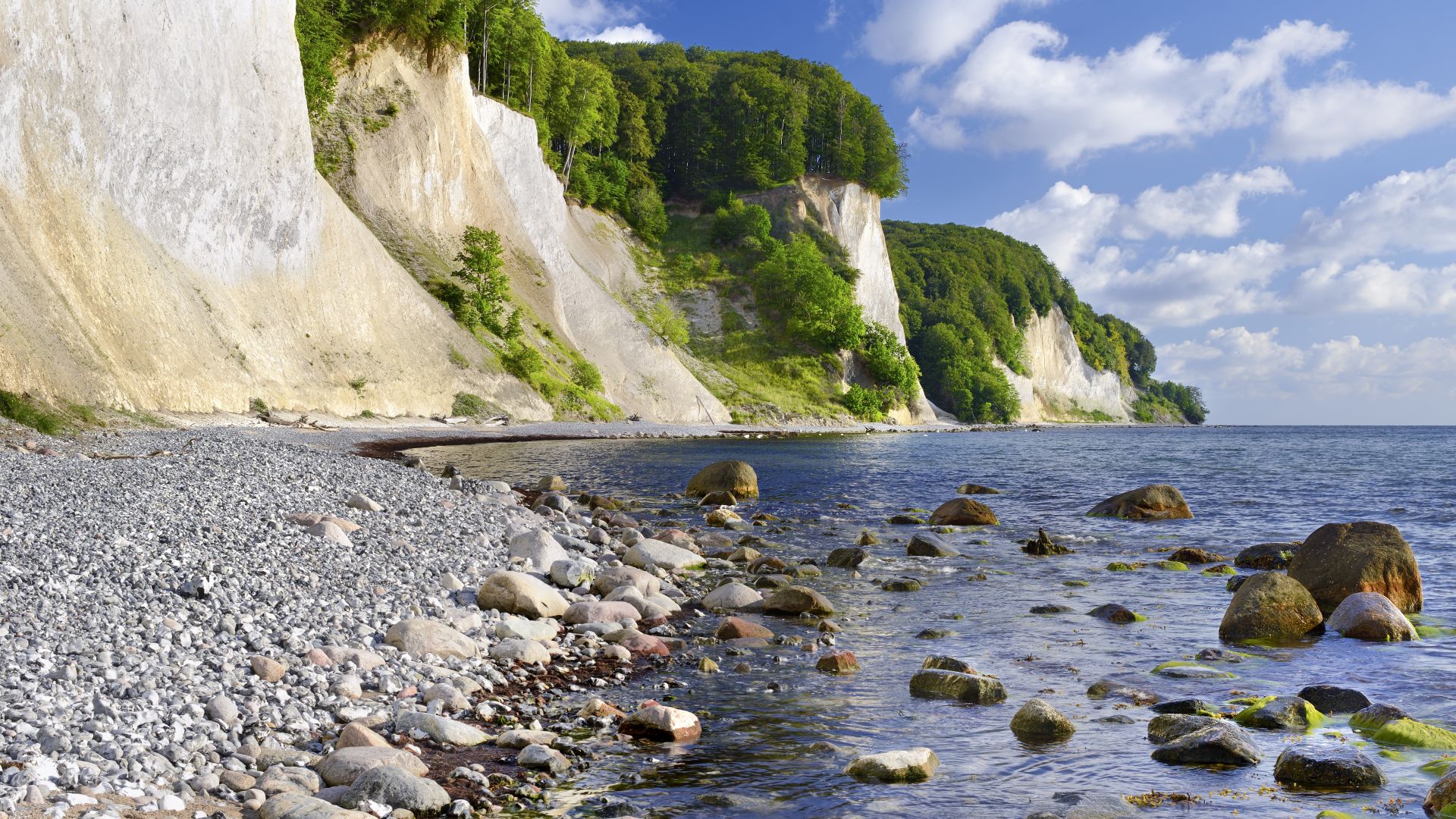 A monumental bridge links Stralsund in Mecklenburg-Western Pomerania in the north-east of Germany to the country's largest island, Rügen. It covers 926 square metres of land in the Baltic Sea. Standing at 118 metres, the Königsstuhl is the tallest of the famous chalk cliffs in Jasmund National Park, sloping steeply until it plunges into the turquoise sea. The Stubbenkammer chalk cliffs rose to fame after they inspired artist Caspar David Friedrich to paint his highly regarded oil painting "Chalk Cliffs on Rügen". 
Blowing hot and cold in Germany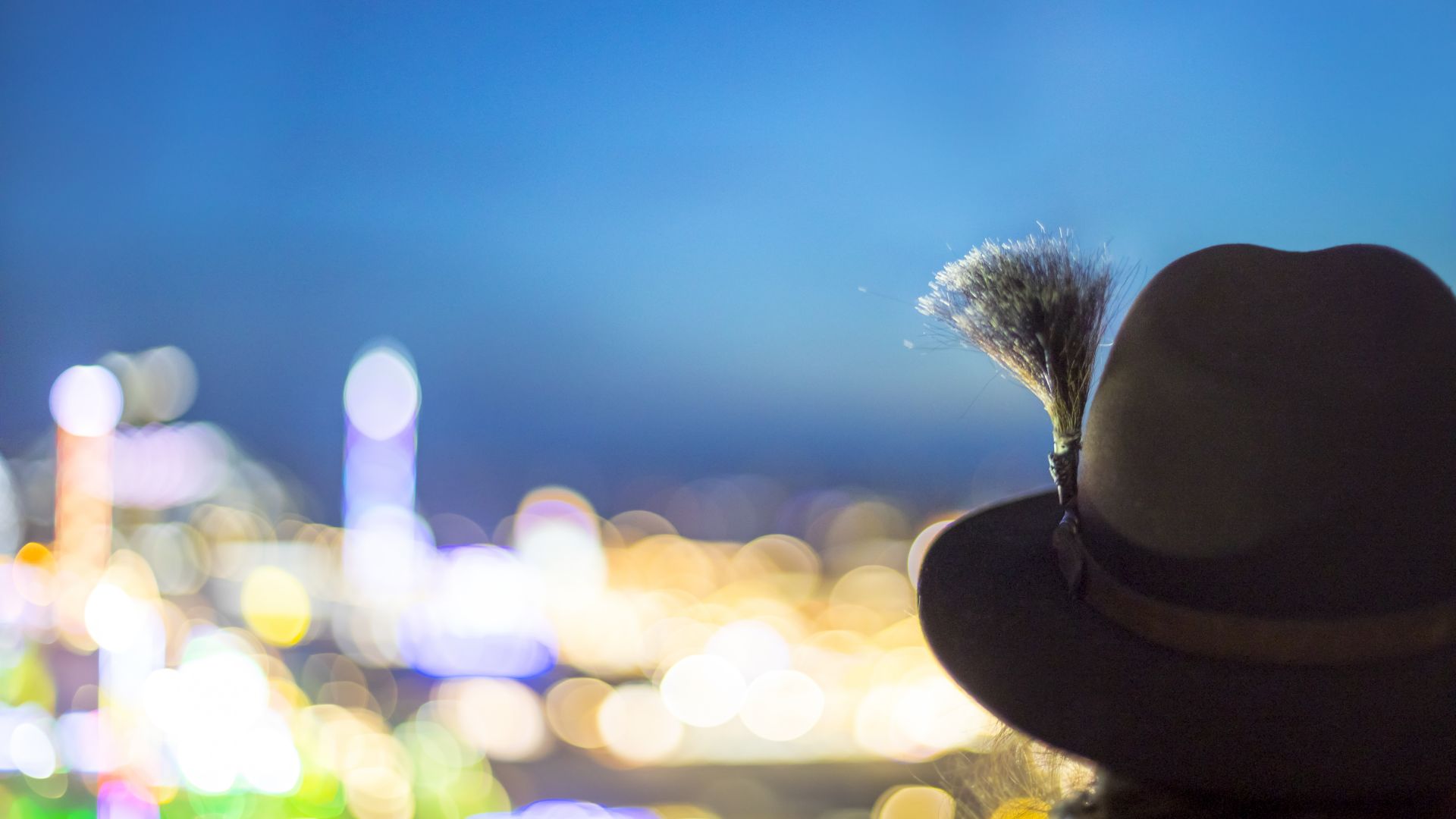 Speaking of culture, tourists visiting Germany can take their pick from around 6,800 museums. In fact, you would struggle to find such a broad cultural offering anywhere else in the world – think music, art, theatre and everything in between. We'll leave it up to you to decide whether or not the world's largest folk festival can be classed as culture... That's right, we're talking about Munich's Oktoberfest, which attracts millions of visitors from all around the world every year.  
And finally we come to the weather. On 25 July 2019, a record-breaking temperature of 42.6 degrees Celsius was recorded in Lingen in Lower Saxony. What a scorcher for Germany! We have to go quite a bit further back in time to find the coldest temperature on record. The mercury dropped to a chilly -37.8 degrees in Wolnzach in Upper Bavaria in 1929. If it ever gets that cold there again, we're in luck, though, as it just so happens to be located in the Hallertau, one of the largest hop-growing areas in the world. We could always pop into the local German Hop Museum and learn all about the history of hops.