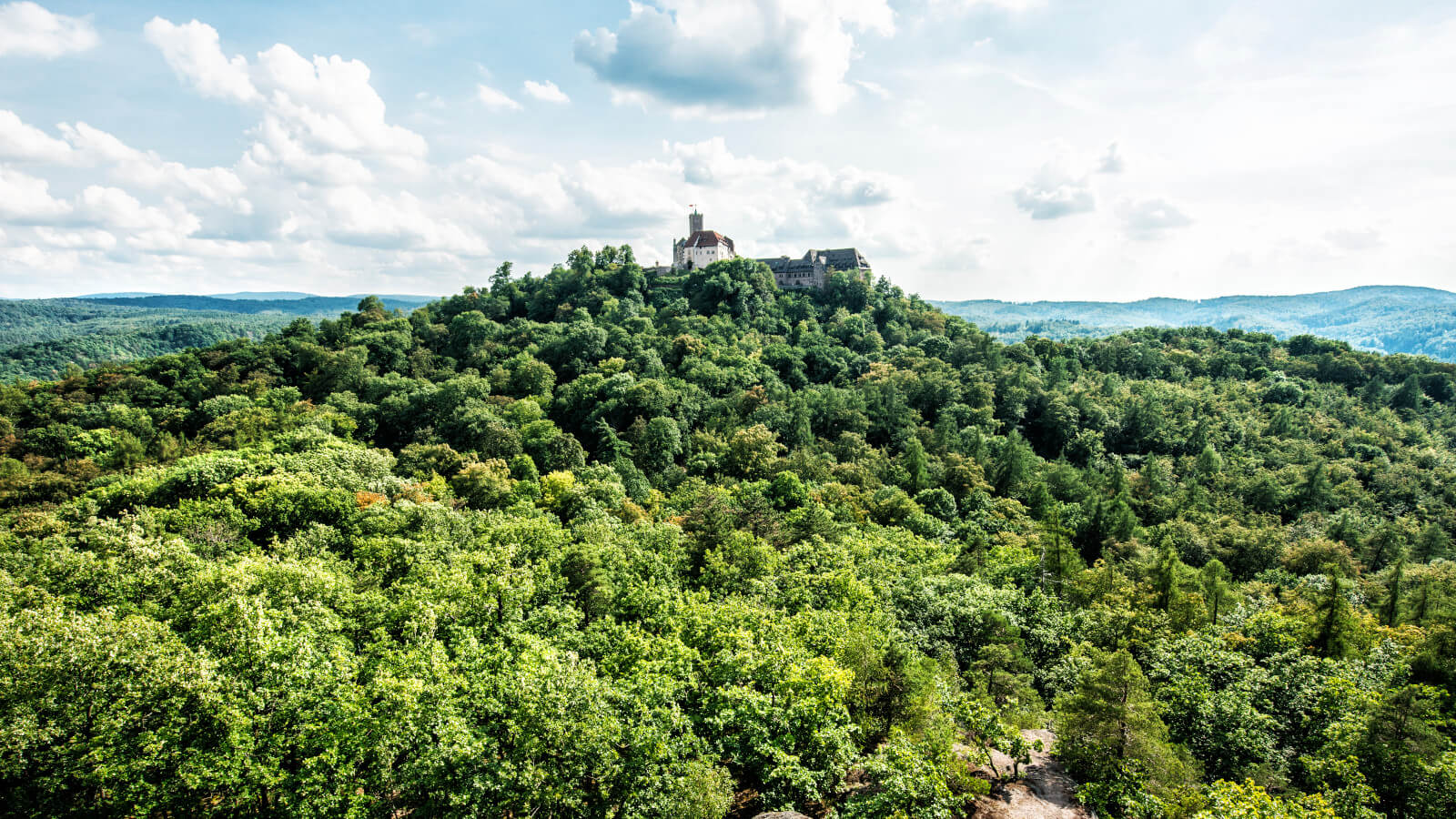 Inspiring Germany
Thuringia – a relaxing holiday destination
A variety of landscapes, a fabulous wealth of castles and palaces, an unforgettable diversity of culture and architecture and so many fun things to do – this is what the holiday destination of Thuringia is all about. Nobody has managed to capture the beauty of Thuringia quite so pertinently as Goethe, who said: "Where else in Germany can you find so many wonderful things in such close proximity?"
Erfurt, Weimar, Eisenach and the list goes on... The towns and cities of Thuringia are well worth a visit with their blend of history and tradition, culture and leisure activities, the modern and the classic. In Weimar, named European City of Culture in 1999, the city's eventful past is reflected at virtually every turn. The Goethe–Schiller monument in front of the German National Theatre and a total of 27 museums have been attracting visitors in their swathes for generations. 16 remarkable buildings have been added to the UNESCO World Heritage list and towns such as Erfurt, Jena, Eisenach, Altenburg, Meiningen and Gotha have a wealth of culture of their own. St. Mary's Cathedral and the Church of St. Severus on Domplatz square, Europe's longest fully preserved bridge lined with buildings (Merchants' Bridge) and the long-established ega garden exhibition are just some of the attractions in Erfurt. Art and culture in Thuringia are closely connected to the work of leading figures on the German cultural and intellectual scene. Museums, theatres, exhibitions and concert halls are alive with the spirits of writers Johann Wolfgang von Goethe and Friedrich Schiller, composer Johann Sebastian Bach and painters Lucas Cranach and Otto Dix.
As the city of Eisenach's main landmark, Wartburg Castle is the most famous castle in the whole of Thuringia. Since 1999, it has been on the elite list of UNESCO World Heritage Sites. There are no end of idyllic palaces and Medieval castles alongside the world-famous Wartburg Castle, Friedenstein Palace in Gotha and the Dornburg Castles.
Many of them authentically recall the Reformation and Martin Luther – as do abbeys and churches in the area. After all, Thuringia is closely associated with Luther's life. He lived as a monk in St. Augustine's Monastery in Erfurt between 1505 and 1512. He translated the New Testament into German at Wartburg Castle in Eisenach and he stayed in Schmalkalden whilst forging the Protestant alliance against the Catholic Emperor.
As a top holiday destination for active sporty types, Thuringia has so much more to offer keen walkers than just the Rennsteig trail. 16,000 kilometres of signposted hiking trails, 22 certified trails and more than 80 premium accommodation providers are enough to attract any hiking enthusiast. And cyclists will be in their element too, thanks to the 13 long-distance cycle paths running alongside rivers, through towns and amidst stunning natural settings.
It goes without saying that Thuringia is a hub for winter sports, thanks in part to the many well-known top athletes based there. Crisp winter air, snow-covered forests and mountains, ski runs, cross-country ski trails and downhill ski pistes transform this holiday destination into a little winter sports paradise.
A wealth of natural remedies such as saltwater and sulphur springs, mud, minerals and, of course, the mild climate have all helped Thuringia gain its long-standing reputation as a centre for spa resorts. 19 spas and health resorts with rehabilitation clinics, thermal baths, adventure pools, wellness packages, hiking trails and cycle paths all ensure that visitors are rested and relaxed.
© Thüringer Tourismus GmbH