Global Trade Corner
Deutsche Bahn AG (DB)
Deutsche Bahn - Travel through Europe the smart way. At high speed.
DB Group is a passenger transport and logistics company operating in over 140 countries worldwide. The company´s core business is the railway with more than 7,3 million customers every day in the passenger transport segment and more than one million tonnes of freight shipped via rail through Germany and Europe. Deutsche Bahn operates more than 40,000 trains daily on its more than 33,300 kilometer-long, modern rail network - which is also open to competition. The there are 5,700 train stations.
Various train types run on the Deutsche Bahn network: Our Intercity Express (ICE) trains are the fastest, the most modern, and the most comfortable. With a top speed of up to 320 km/h, they set high standards in speed, technology and comfort. Our Intercity (IC) and Eurocity (EC) trains operate as supra-regional long-distance trains and connect the most important German and European cities. Within the various regions of Germany, such as metropolitan or rural areas, many different regional and suburban trains ensure connectivity for passengers.
Discover the ICE in the interactive 360 ° presentation from the inside.
Travelling by train – fast, easy, and inexpensive
Deutsche Bahn offers you simple and comfortable travel as well as a range of special offers and discounts. Deutsche Bahn's Super Sparpreis (super saver fare) is an ongoing special offer for Germany, available from EUR 19.90 and subject to availability. With the ICE, for example, you can travel quickly from Munich to Berlin in just four hours - without breaking the bank.
First-class travel with Deutsche Bahn
Enjoy the benefits of 1st class service as you approach your destination at high sped and premium comfort. Spacious seats are as inviting for work as they are for relaxation. In addition to the fully air-conditioned ICE carriages, the extensive range of services in 1st class also includes a stylish interior, relaxed atmosphere, and improved mobile radio and WiFi reception. In addition, there are designated quiet areas where you can relax undisturbed. If you wish, we can serve you a selection of meals and drinks directly at your seat. Book our 1st class comfort at affordable prices starting from EUR 29.90.
Towns, Cities and Culture
Experience Europe by train
Travel with the Super Sparpreis Europa (super saver fare for Europe) and experience the historical and cultural highlights of Europe. From Germany, you can travel from EUR 39.90 to 16 European countries - and from EUR 19.90 for shorter cross-border connections. For example, take the train from Frankfurt to Amsterdam or Paris in only about 4 hours, starting from EUR 39.90. Or travel from Hamburg to Copenhagen in 4.5 hours, starting from EUR 29.90.
Full flexibility for our non-European guests
Germany is a railway country. A closely-linked network provides connections between all major cities – and more than that: DB's regular train services get you even to the smallest towns and the most outlying corners of the Federal Republic. As such, you can explore your chosen holiday region without any stress - or travel to your next business appointment in perfect comfort. Discover Germany from the North and the Baltic Sea down to the Black Forest and the Bavarian Alps. Experience the culture and history in vibrant cities such as Berlin, Hamburg and Munich. Visit German river valleys, fairytale castles, and enchanting medieval towns. Nothing in Germany is easier, faster or more comfortable than traveling by train.
Our German Rail Pass enables travellers residing outside the EU, Russia or Turkey to travel flexibly within Germany on DB trains from less than EUR 200. Tickets are valid for several days within one month and available in 1st or 2nd class.
You can book Deutsche Bahn offers on the Internet, at the station or by phone. In addition, you can obtain your tickets from licensed DB agencies near you.
Barrier-free Travel
Barrier-free travel for the mobility-impaired
Guests with reduced mobility have access to a comprehensive range of services. Our service staff at railway stations will help you with boarding, changing, and disembarking trains.
If you are a traveller with limited mobility and need advice on travel planning, a seat reservation, or timetable information - we will be happy to help you with any questions.
Contact information for the Mobility Service Centre for our boarding, changing, and/or disembarking services, ticket purchase, and seat reservations can be found here. Register by fax or online is also possible.
Social Commitment / Green Travel
With DB you are an environmentalist
The time of hesitation is over. Climate change is palpable. We all, therefore, bear the responsibility to act now and to leave a planet worth living for future generations.
Deutsche Bahn accepts this environmental responsibility - it is what our strategy #starkeschiene (strong rail) stands for. Only if a significant portion of traffic is shifted to a strong green railway system, Germany and Europe can achieve their climate targets.
No means of transport is as climate friendly as our trains. Today, around 140 million long-distance passengers already use 100 percent green electricity. By 2038, DB plans to operate all trains excusicvely with green electricity. And by 2050, Deutsche Bahn aims to be CO2-free.
Environmental protection also means maintaining a healthy ecosystem. That is why we create habitats for endangered animals and plants and are committed to biodiversity. We also treat resources with care: By 2020, we want to recycle more than 95 percent of the raw materials we use.
However, winning more passengers and goods for a green rail also means thinking of the people who live close to it: That is why we are continuously innovating our means to reduce noise pollution with the clear goal of halving rail traffic noise by 2020.
"Das ist grün" (That is green) stands for this environmental strategy and more than 150 green projects in climate, nature, resource, and noise protection.
Kontakt & Ansprechpartner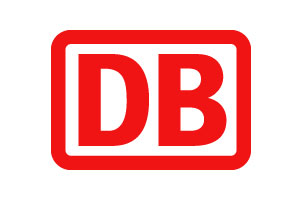 Contact
For further information and for bookings, please visit our website at: www.bahn.com
Information for potential and existing partners can be found at www.db-partner.info.
If you have any queries about your booking or journey, please do not hesitate to contact us:
Deutsche Bahn Booking Centre
Phone: +44 8718 80 80 66 *
Online service and booking support
For support regarding online tickets, online booking and online ticket changes/refunds, please contact:
Phone: +49 180 6 10 11 11 *
E-mail:
Mobility Service Centre (MSC)
www.bahn.de/barrierefrei
Phone: +49 180 6 512512 *
Fax: +49 180 5 159357 *
E-Mail:
For further information regarding booking and timetables, please visit:
www.bahn.com
* extra charges may apply