Global Trade Corner
Welcome to Thuringia!
Thuringia. Culture is our nature.
Great moments of European history, world heritage amidst ancient cultural landscapes, dense forests, relaxing river valleys and traditional hospitality in historic settings - and all this in the heart of Germany. Thuringia is a region of short distances. Combining nature and culture experiences is very easy here. In the morning, you can enjoy magnificent views from the Rennsteig hiking trail in the Thuringian Forest and in the afternoon, either indulge in the medieval flair of Erfurt's old town or visit Weimar's UNESCO world heritage sites.
For Bach fans, Thuringia is a must. The extraordinary composer was born in Eisenach and left impressive musical traces in towns such as Arnstadt, Mühlhausen and Weimar. Martin Luther was a student, monk and Bible translator in Thuringia. Lucas Cranach created immortal works of art that adorn Thuringia's churches and museums. And Walter Gropius ushered in a new era in 1919 with the founding of the Bauhaus school. Add to this more than 400 castles and palaces that little Thuringia can proudly boast, and you have more than enough reasons for a trip to this German federal state. And we haven't even mentioned the nature parks, UNESCO biosphere reserves or the World Heritage Hainich National Park yet.
Read up on Thuringia at visit-thuringia.com or contact us for advice on putting together your ideal Thuringia programme.
Kontakt & Ansprechpartner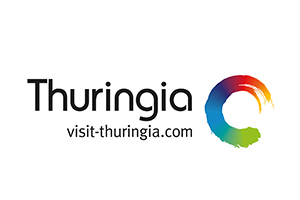 Contact
Thuringia Tourist Board
Willy-Brandt-Platz 1
99084 Erfurt
Tel. +49-361-37420
Fax +49-361-3742388
The new digital experience world in Erfurt presents Thuringia as a fascinating, modern and attractive destination. Inspiring places and personages as well as breath-taking views are shown with latest technology like VR-glasses and KUKA-robot.
More Contacts
By air
Erfurt Weimar Airport:
direct motorway link to Autobahn A 4 / A 71
By car / bus
motorway with Autobahn A 4 (East-West link: Dresden – Frankfurt am Main)
motorway with Autobahn A 9 (North-South link: Berlin – Munich)
motorway with Autobahn A 38 (East-West link: Leipzig – Göttingen)
motorway with Autobahn A 71 (South-North link: Würzburg / Schweinfurt – Sömmerda)
motorway with the Autobahn A 73 (South-North link: Nuremberg – Suhl)
By train
The excellent location in the heart of Germany and the modern infrastructure are important attributes that make the destination Thuringia very attractive. The state's capital Erfurt is an ICE-hub for the high-speed trains of the Deutsche Bahn. Travelling times from Berlin, Munich, Frankfurt and Dresden to Thuringia have minimalized dramatically. See time table
Erfurt - München: 2,30 h
Erfurt - Berlin: 1,45 h
Erfurt - Dresden: 1,5 h
Erfurt - Frankfurt/Main: 2,10 h